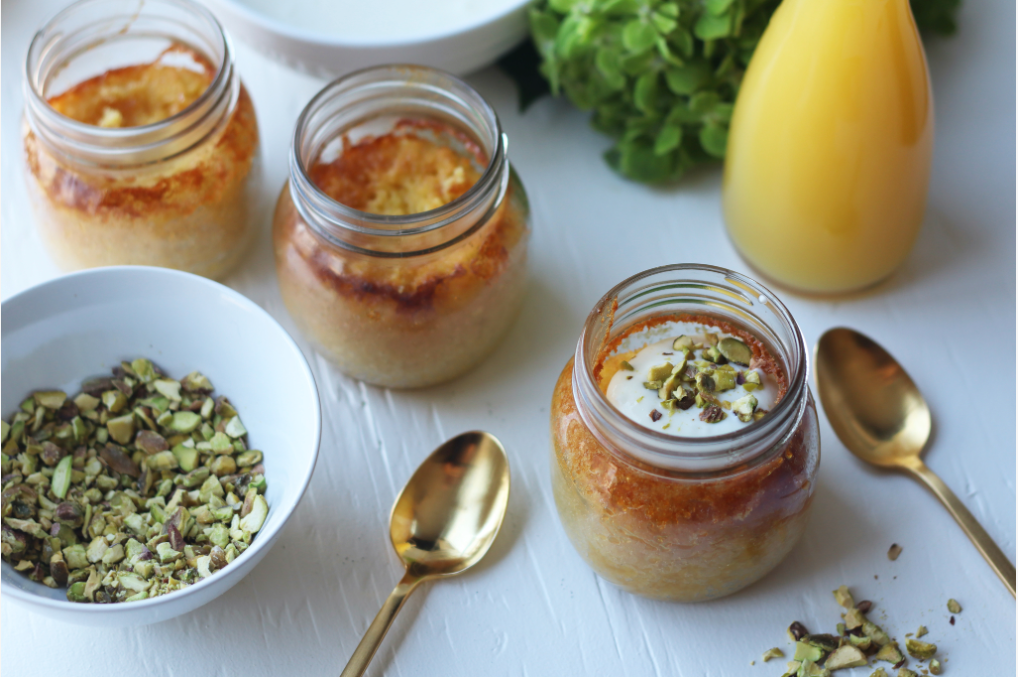 Mason Jar Florida Orange Juice Polenta Cakes
These little cakes are perfect for sharing, taking on the go, or for finalizing a dinner party. Make them in little jars for delightful presentation and portability!
Cake Batter Ingredients
As needed Canola oil spray
1 cup cornmeal
1 1/2 tsp baking powder
1 1/2 cup unsalted butter
1 1/4 cup white sugar, buzzed in food processor finely
1 cup ground almonds
5 large eggs, beaten
3 Tbsp Florida Orange Juice
3 Tbsp Greek yogurt
1 1/2 Tbsp lemon zest
Orange Syrup Ingredients
1 1/3 cup Florida Orange Juice
1/3 cup honey
Greek Yogurt Glaze Ingredients
1 cup Greek yogurt
4 Tbsp icing sugar
2 Tbsp Florida Orange Juice
1/3 cup pistachios, shelled, skinned, toasted & chopped
Preparation
Preheat oven to 350°F
1. Prepare the mason jars by spraying with canola oil spray and set aside on a baking sheet.
2. In a small bowl using a whisk, mix the cornmeal and baking powder together, set aside.
3. In a stand-up mixer with a paddle attachment, cream together the butter and sugar until light and fluffy. Add in the ground almonds and mix.
5. Add in the eggs one at a time to incorporate and turn off the machine.
6. Using a spatula, stir in the Florida Orange Juice, yogurt and lemon zest. Gently fold the cornmeal mixture into the wet mixture and stir to combine. Do not over mix!
7. Using a 2 oz. cookie/ice cream scoop, scoop the mixture into mason jars, carefully to not get batter on the side of the jar, and place back on the small baking sheet. Bake for 22-25 minutes. Turn the heat down to 300°F and continue to cook the cake for another 15-20 minutes until the cakes are golden and a toothpick inserted comes out clean.
8. Meanwhile, make the orange syrup while the cakes are baking. In a small saucepan bring the Florida Orange Juice and honey to a boil. Reduce heat and simmer for about 5 minutes until thickened and syrupy.
9. Carefully remove the cakes from the oven. Using a kitchen towel or mitten, place the jars on a rack and let cool down to room temperature. When cooler, use a toothpick or skewer and prick holes in the top of the cakes, spoon the syrup over each one, making sure it's distributed equally. Let it sit for 20 minutes to soak in.
10. While the cakes are soaking the syrup, make the glaze by mixing together the yogurt, icing sugar and
orange juice and spoon it over each cake, distributing equally between them. Finish by sprinkling with the chopped pistachios. Enjoy them warm or cooled down by placing them in the fridge to set.