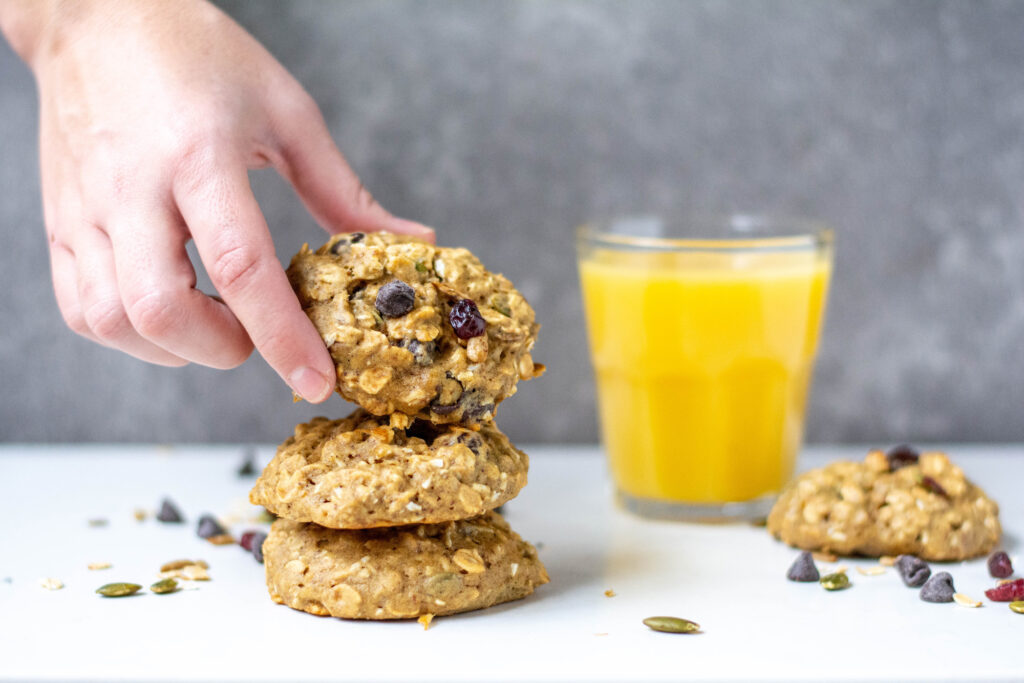 Orange and Granola Breakfast Cookie 
Makes 12 cookies
Ingredients
1 cup (250ml) Florida Orange Juice 
6 pitted Medjool dates 
2 large eggs 
1/4 cup coconut oil 
2 teaspoons vanilla extract 
1 cup large flake or old-fashioned oats 
1 cup all-purpose flour 
1/2 teaspoon cinnamon 
1 teaspoon baking powder 
1/2 teaspoon baking soda 
1/4 teaspoon salt 
1/4 cup unsweetened shredded coconut  
1/4 cup roasted sunflower seeds 
1/4 cup roasted pumpkin seeds 
1/4 cup dried cranberries 
1/4 cup mini chocolate chips 
Preparation
| Prep Time | Cook Time | Total Time |
| --- | --- | --- |
| 10 minutes | 10 minutes | 20 minutes |
Preheat oven to 375ºF. Line a baking sheet with parchment paper.
In a small saucepan or microwave safe bowl, heat orange juice until warm. Add dates and let sit for 5 to 10 minutes or until dates are softened.
Blend date and orange juice mixture in food processor or blender until smooth. Empty into large bowl and whisk in eggs, coconut oil, and vanilla extract.
Mix in oats, flour, cinnamon, baking powder, baking soda, and salt. Fold in coconut, seeds, cranberries, and chocolate chips.
Scoop 2 tablespoon sized balls of batter onto prepared baking sheet, spacing about 1 1/2 inches apart. Cookies will not spread very much during baking.
Bake for 10-12 minutes. Cool on wire rack before serving.