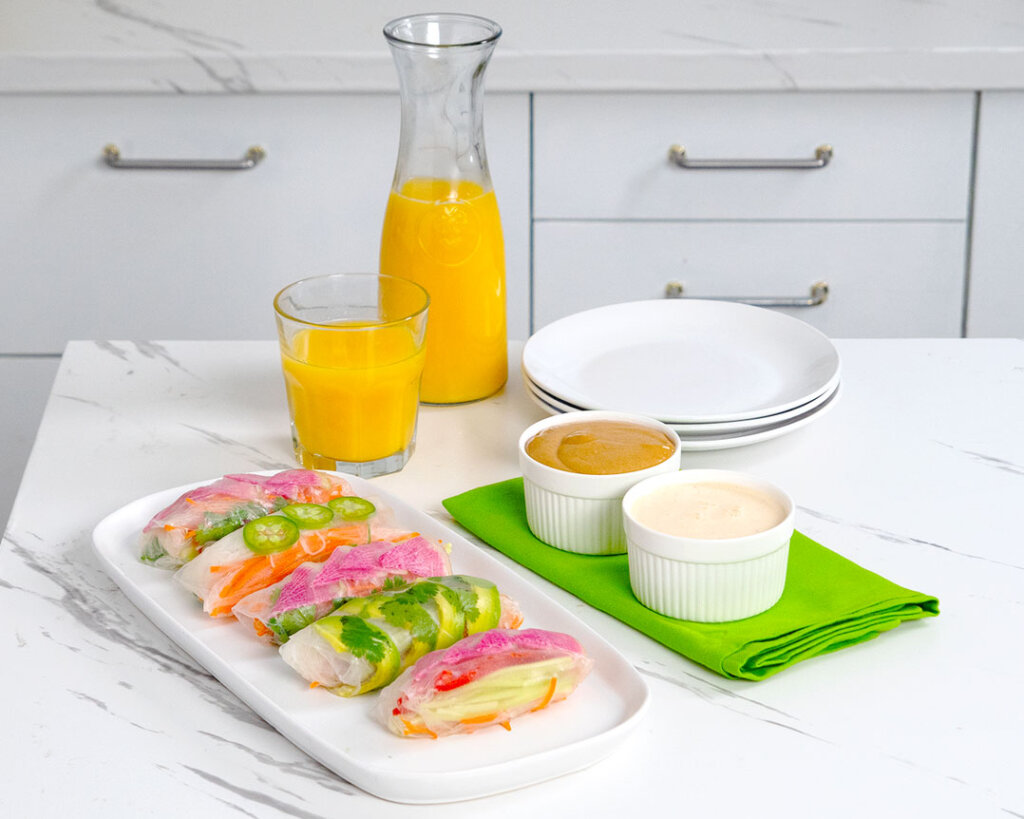 Florida Orange Juice Summer Rolls
Try this refreshing twist on a summer favourite. Summer rolls are packed with fresh flavor and the addition of citrus makes it a refreshing snack for the warm summer months.
Ingredients
2 cups vermicelli noodles, cooked
2 tablespoons sesame oil
1 teaspoon sea salt
1 cup red cabbage, sliced thin
2 medium carrots, peeled and julienned
2 Persian cucumbers, thinly sliced
2 medium jalapeños, thinly sliced rounds
2 red bell peppers, thinly sliced
¼ cup green onions, thinly sliced
¼ cup cilantro, roughly chopped
1 cup watermelon radishes, thinly sliced and cut into quarters
12-16 sheets of rice paper (spring roll wrappers)
2 avocados, thinly sliced
Warm water for soaking rice paper
Orange Peanut Sauce
½ cup Florida Orange Juice
1  cup peanut butter
2 tablespoons soy sauce
3 tablespoons sesame oil
2 tablespoons rice vinegar
3 tablespoon water
1 tablespoon brown sugar
1 clove garlic minced
Spicy Sambal Mayo
1 cup mayo
1 clove garlic minced
2 teaspoon fish sauce
2  teaspoon sambal oelek
1 teaspoon honey
Preparation
| Prep Time | Cook Time | Total Time |
| --- | --- | --- |
| 9 minutes | 13 minutes | 22 minutes |
For Orange Peanut Sauce:
Combine all ingredients in a bowl and whisk until combined. Enjoy with fresh summer rolls.
For Spicy Sambal Mayo:
Combine all ingredients in a bowl and whisk until combined. Enjoy with fresh summer rolls.
For Summer Rolls:
To make the summer rolls: Bring a pot of water to boil and cook the noodles until al dente, according to package directions. Drain, and rinse under cool water. Toss the noodles with sesame oil and salt, and set aside.
Place a piece of rice paper in hot/warm water for about 3-5 seconds. The sheet should be pliable but not floppy. Carefully lay it flat on a wet cutting board.
Leaving about 1 inch of open rice paper around the edges add a handful of cooked rice noodles to the lower third of the rice paper, followed by your desired amount of carrots, cucumbers, bell pepper, and cilantro. Place watermelon radish, avocado, or jalapeño on the top third of the rice paper.
Fold the bottom edge over the fillings, rolling upward until the filling is compactly enclosed. Fold over the short sides; like you would make a burrito, and finish rolling it up tightly, yet gently not to tear the rice paper. Repeat with the remaining ingredients.
Enjoy immediately and dip summer rolls in the sauces and enjoy!