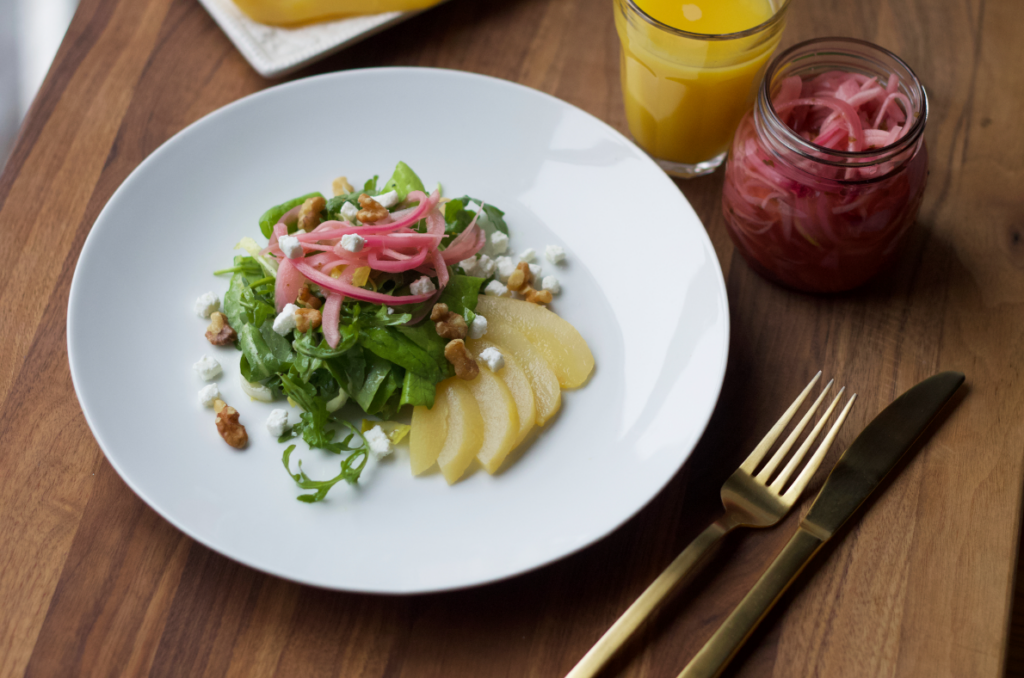 Florida Orange Juice Poached Pear and Pickled Onion Salad
This salad is topped with Endive, crumbled goat cheese, toasted walnuts and apple cider-orange vinaigrette. It's a salad made to impress!
Poached Pear Ingredients
3 cups Florida Orange Juice
1/3 cup sugar
1 cinnamon stick
2 cloves
2 Bosc pears, peeled, quartered & cored
Orange Pickled Red Onions Ingredients
1 large red onion, peeled, sliced (vertically) thinly
1 cup Florida Orange Juice from the poached pears (already hot/warm)
1 cup apple cider vinegar
1 tsp Kosher salt
4 Tbsp honey
2 large bay leaf (or 3-4 medium ones)
1 tsp oregano, dried
Apple Cider-Orange Vinaigrette Ingredients
1/2 cup Florida Orange Juice from the poached pears (cooled down)
4 Tbsp cider vinegar
2 Tbsp lemon zest or the zest of 2 lemons
1 Tbsp honey
4 Tbsp Dijon mustard
1/2-2/3 cup extra virgin olive oil
To taste Kosher salt
To taste Black pepper, freshly ground
For Salad & Garnishes Ingredients
2 heads soft lettuces (such as Bibb, Boston or Butter lettuce), cored, washed & broken by hand into bite-size pieces
2 Belgian endive (red or green), thinly sliced
1 cup baby arugula
1 cup goats cheese, chilled & crumbled
2/3 cup Walnuts, toasted & roughly chopped
Preparation
1. Start by poaching the pears. In a small pot (but big enough to hold pears submerged in the liquid), combine Florida Orange Juice, sugar, cinnamon stick and cloves. Over medium-high heat, dissolve the sugar, and when completely dissolved insert the prepared pears and turn down the heat to a rolling simmer. Cover with a lid, slanted and poach until tender when pierced with a small sharp knife (15-20 minutes). When tender, remove carefully from the liquid, place on a parchment lined baking sheet to cool and then slice thinly.
2. While the pears are poaching, thinly slice the onions, vertically, either with a chef's knife or a mandoline and place in a bowl. After the pears are removed from the poaching liquid, measure 1 cup from that liquid, place in a small pot together with the vinegar, salt, honey, bay leaf and oregano. Bring to a boil. After it boils, remove from the heat and carefully pour over top of the onions. Set aside and let the pickling process take its course.
3. Make vinaigrette. In a medium bowl whisk 1/2 cup of the cooled Florida Orange Juice from poaching, vinegar, lemon zest, honey, mustard and a pinch of salt. Drizzle the olive oil slowly while vigorously whisking, stop anytime when you reach the right and thicker consistency (you might not need all the oil). Season with salt and pepper to taste. Set aside. Note: This can also be achieved by mixing all ingredients in a big enough mason jar, make sure you shake vigorously – add the oil in parts.
4. In a large bowl, mix prepared lettuces, endive and arugula with some of the vinaigrette, season with salt and pepper to taste.
5. To assemble: On each plate, place slices of the poached pears slightly off-centered (1/4 of pear per plate), drizzle with some of the vinaigrette. Place a small mound of dressed greens on top (center of the plate, slightly on top of the pear slices) – use your hands if possible, or a pair of tongs if you prefer. Garnish with pickled onions, goat cheese and walnuts – serve immediately. Enjoy