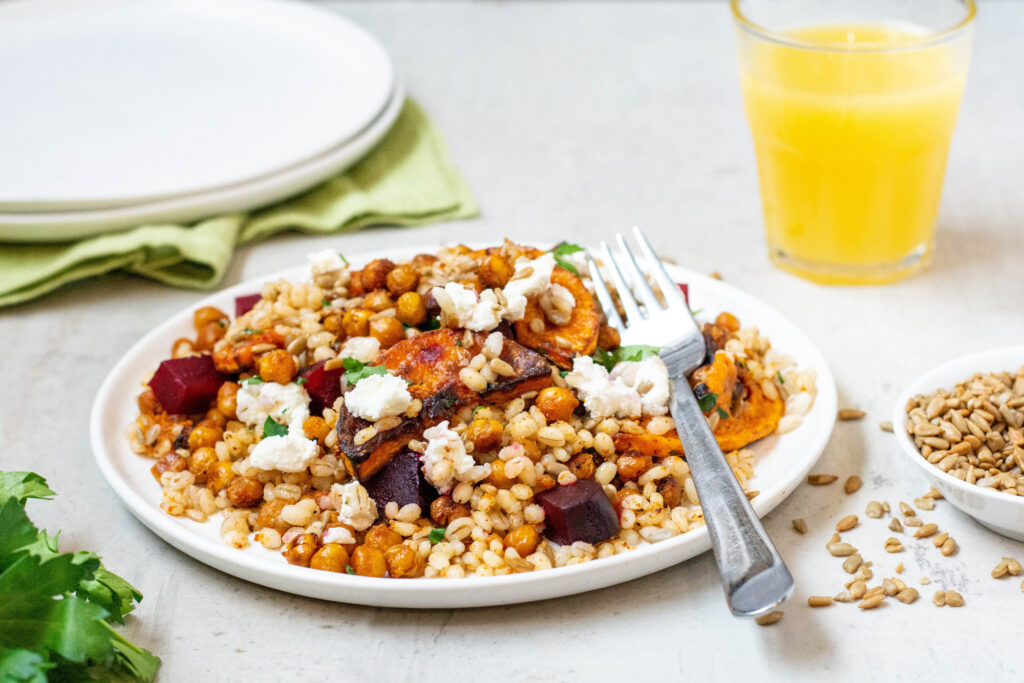 Roasted Chickpea and Barley Salad 
Makes 4 – 6 servings
Ingredients
For the Salad:
1 small butternut squash, peeled, seeded, and cut in 1/2-inch cubes or half-moons* 
1 can chickpeas, drained and rinsed  
2 small beets, peeled and cubed 
2 tablespoons oil 
2 teaspoons garlic powder 
1 teaspoon paprika 
1 teaspoon ground cumin 
1/2 teaspoon salt 
1/4 teaspoon ground pepper 
1 cup water 
1 cup (250ml) Florida Orange Juice 
1/2 cup pearl barley, rinsed 
1/4 cup crumbled goat cheese or feta cheese 
1/4 cup roasted sunflower seeds 
1/4 cup chopped parsley 
For the Orange Vinaigrette:
3 tablespoons Florida Orange Juice 
2 teaspoons grainy mustard 
1 tablespoon olive oil 
2 teaspoons apple cider vinegar 
1 teaspoon maple syrup 
Notes:
Substitute sweet potato for squash if desired.
Preparation
| Prep Time | Cook Time | Total Time |
| --- | --- | --- |
| 15 minutes | 35 minutes | 50 minutes |
Preheat oven to 425ºF. In a large bowl, toss squash, chickpeas, and beets with oil, garlic powder, paprika, cumin, salt, and pepper. Arrange in a single layer on a large rimmed baking sheet.
Bake for 20 to 30 minutes flipping or stirring part way through, until lightly golden. Beets and squash should be tender. Remove from oven and set aside.
Meanwhile, bring water and orange juice to a boil in a saucepan over medium-high heat. Add barley, and cook uncovered for 25 to 30 minutes or until tender. Drain any excess liquid and set aside.
In a large bowl, combine squash, chickpeas, beets, barley, goat cheese, sunflower seeds, and parsley.
Whisk together orange juice, mustard, olive oil, apple cider vinegar, and maple syrup in a small bowl. Pour over prepared salad just before serving, and toss to combine.