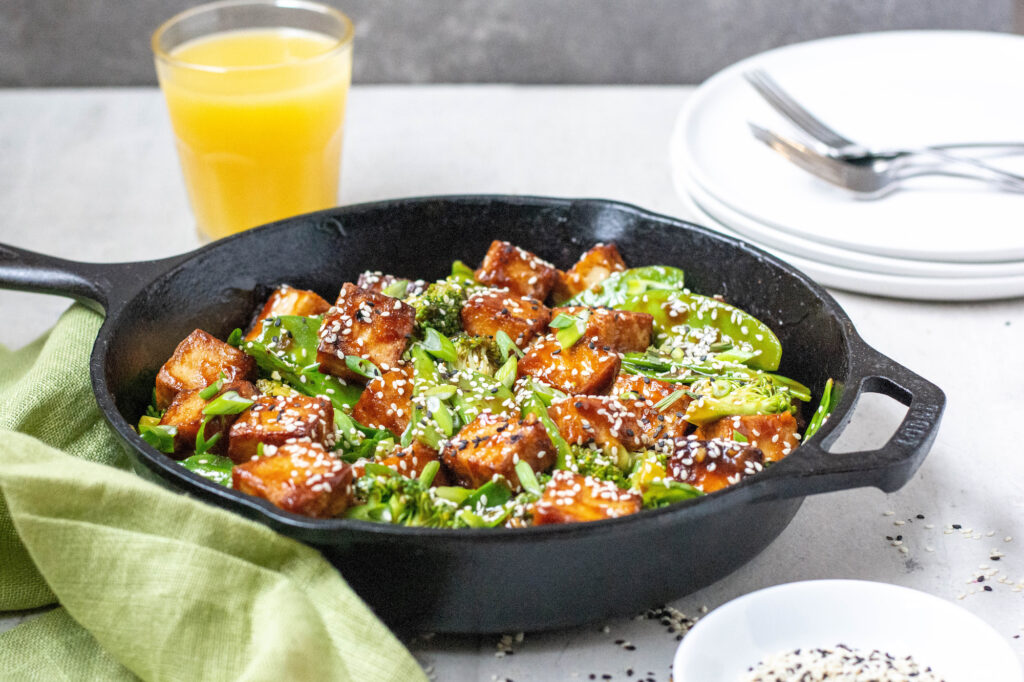 Tofu Stir Fry with Orange Hoisin Sauce 
Makes: 4 servings
Ingredients
For the Stir Fry:
1/4 cup cornstarch 
1 teaspoon garlic powder 
1 teaspoon paprika 
1/2 teaspoon salt 
1/4 teaspoon ground pepper 
1 package extra firm tofu (454 grams), cut in 1-inch cubes 
2 tablespoons oil, divided 
1 head broccoli, cut into florets 
1 package (200 grams) snow peas or snap peas 
1/4 teaspoon salt 
1/4 teaspoon ground pepper 
For the Orange Hoisin Sauce:
3/4 cup (178ml) Florida Orange Juice 
1 tablespoon cornstarch  
3 tablespoons water 
1/4 cup hoisin 
1 teaspoon grated fresh ginger 
1 teaspoon minced garlic 
2 tablespoons soy sauce 
1 tablespoon sesame seeds for garnish (optional) 
Preparation
| Prep Time | Cook Time | Total Time |
| --- | --- | --- |
| 15 minutes | 25 minutes | 40 minutes |
Combine cornstarch, garlic powder, paprika, salt, and pepper in a bowl. Add tofu and toss to combine, ensuring tofu is coated on all 4 sides.
Heat frying pan with 1 tablespoon oil over medium heat. Fry tofu, browning all sides evenly. Set aside.
In same pan, add 1 tablespoon oil, and sauté broccoli for 2 minutes. Add snap peas and cook until vegetables are tender, seasoning with salt and pepper. Remove from heat.
Mix cornstarch and water in a small bowl to form a slurry. Set aside.
In a small saucepan over medium heat, bring orange juice, hoisin, ginger, garlic, and soy sauce to a boil. Stir in cornstarch slurry until thickened. Remove from heat.
Bring frying pan back over medium heat and add tofu to veggies. Pour sauce over and stir to coat.
Serve topped with sesame seeds. Pair with rice if desired.