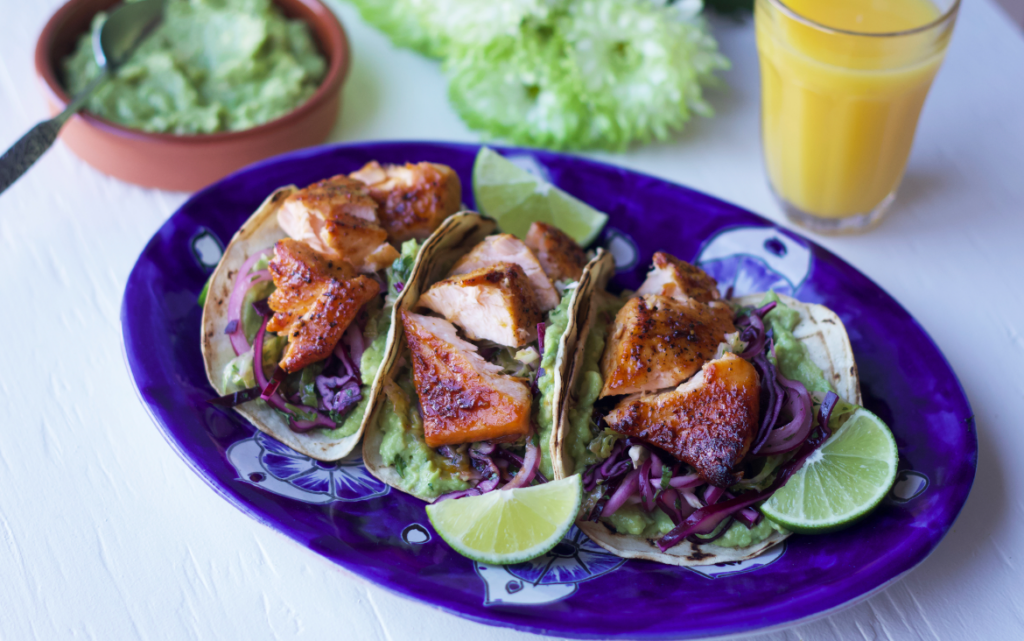 Florida Orange Juice Chipotle Glazed Salmon Tacos
Spice up Taco Tuesday with these citrusy tacos. The Florida Orange Juice glaze will be in your recipe books for years to come!
Orange-Chipotle Glaze (1 cup) Ingredients
1 cup Florida Orange Juice
1/2 cup cider vinegar
1/2 cup brown sugar, packed
1/4 cup honey
2 Tbsp juice from a can of chipotle chile in adobo sauce
2 tsp coriander, ground
1 tsp cumin, ground
Red Cabbage Slaw Ingredients
1/4 cup Florida Orange Juice
1/4 cup cider vinegar
1/4 cup olive oil
2 1/2 Tbsp honey
1/2 tsp Kosher salt
1/4 tsp black pepper, freshly ground
2 cups red cabbage, shredded
2 cups green or savoy cabbage, shredded
1/2 medium red onion, thinly sliced
1/4 cup cilantro leaves, chopped
Smashed Avocado (2 cups) Ingredients
2 tsp Florida Orange Juice
2 Hass avocados, ripe
1 tsp lime juice
1 Tbsp olive oil
¼ tsp kosher salt (more if preferred)
Salmon Ingredients
3 lbs Salmon fillets, skinless (if needed, cut into similar & manageable sizes)
As needed Kosher salt & black pepper, freshly ground
2-3 Tbsp as needed canola oil
Preparation
Preheat oven to broil
Florida Orange-chipotle glaze:
1. In a small pot, combine Florida Orange Juice, cider vinegar, brown sugar, honey, chipotle in adobo sauce, coriander and cumin. Bring to a boil, reduce heat and simmer for 35-45 minutes, until sauce has reduced to one cup consistency should be syrupy. Keep an eye on it and stir from time to time.
Red Cabbage Slaw:
1. In a large bowl, whisk Florida Orange Juice vinegar, oil, honey, salt and pepper until well incorporated.
2. Add shredded cabbages, onion and cilantro, toss, preferably with your hands to break the fibres (or use tongs if preferred) until well coated. Refrigerate until serving.
Smashed Avocado:
1. Cut avocados in half and remove the pits (do not discard). Using the tip of a small knife, cut the avocado flesh into medium squares (carefully, making sure not to go through the skin). Using a large spoon, scoop out the cubes into a bowl.
2. Add Florida Orange Juice, lime and olive oil. Mix, smashing gently with a fork until well incorporated – do not over mash. Season to taste with salt. Place pits back, cover with plastic food wrap and refrigerate until needed.
Salmon:
1. Dry salmon with a paper towel, season both sides with salt and pepper.
2. In a non-stick pan over medium high heat, heat canola oil (around 2-3 Tbsp). When oil is hot, but not smoking, add salmon clean side down. Cook until deeply golden without moving – around 5-6 minutes. Flip over and continue cooking the other side for around the same time.
3. Remove from the heat, brush with the orange-chipotle glaze, place in the oven under the broiler for a
couple of minutes until it browns and the salmon is flaky. Remove from oven. Note: You can also achieve
the glazing with a small crème brûlée torch after brushing it.
4. To serve, break salmon into bite size pieces and warm-up the tortillas. Place a tortilla on the plate, spread smashed avocado, place a few pieces of salmon and top with slaw & cilantro leaves. Serve with a lime wedge and enjoy!