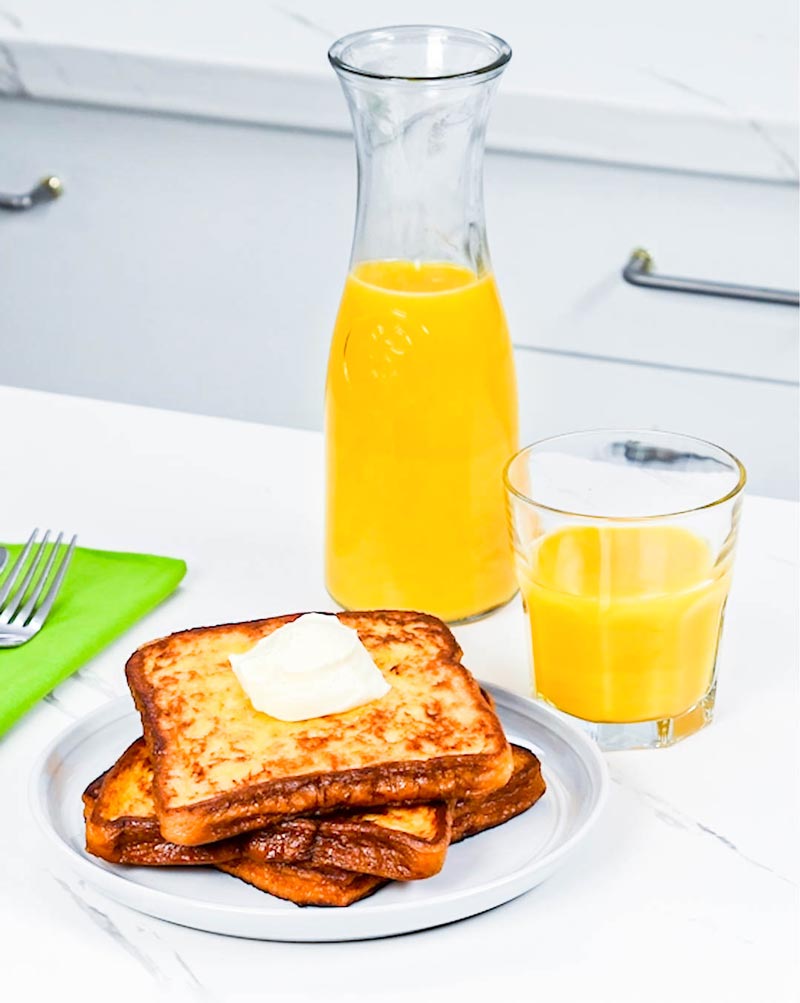 Florida Orange Juice French Toast with Infused Whipped Cream
French toast is one of those breakfast meals that can satisfy any taste bud. Enjoy this Florida Orange Juice twist to a class breakfast favourite.
Ingredients
 3/4 cup plus ¼ cup Florida Orange Juice, divided
10 slices milk bread (can substitute with any bread – sourdough, gluten-free)
4 eggs
½ cup milk
1 cup heavy whipping cream
maple syrup, for serving
Preparation
| Prep Time | Cook Time | Total Time |
| --- | --- | --- |
| 4 minutes | 10 minutes | 14 minutes |
Directions:
In a shallow dish, whisk together the eggs, milk, and ¾ cup of Florida Orange Juice.
Dunk each slice of bread in the egg mixture, letting it soak in.
While the bread soaks, whip the heavy cream until it reaches stiff peaks, about 3 minutes. Gently fold in the remaining ¼ cup Florida Orange Juice until well combined.
On a hot pan over medium heat, fry both sides of each slice in a small amount of neutral oil.
Remove from heat when golden brown, and serve in a stack with a dollop of whipped cream and a drizzle of maple syrup.