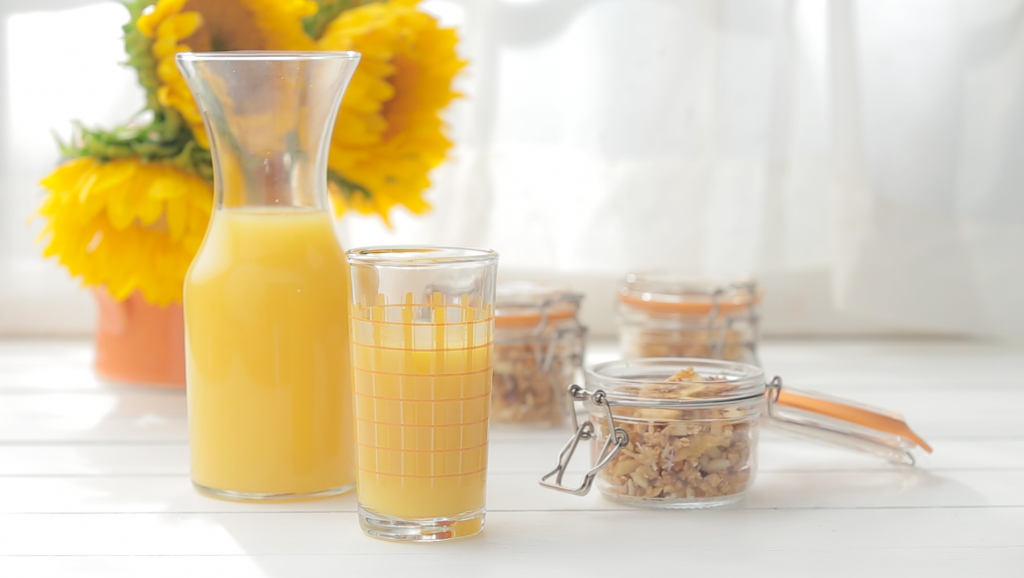 Try our quick and easy Tropical Granola that you can make ahead and enjoy on busy mornings. Make a batch over the weekend and enjoy throughout the week. Add a glass of Florida Orange Juice and you're all set for an ideal breakfast.
Ingredients
1 cup (240ml) Florida Orange Juice
4 cups quick cooking oats
¼ cup sugar
1 cup banana chips, broken into small pieces
½ cup shredded coconut
½ cup slivered almonds
Salt to taste
Preparation
| Prep Time | Cook Time | Total Time |
| --- | --- | --- |
| 15 minutes | 30 minutes | 45 minutes |
1. Preheat oven to 300° F.
2. Mix together the oats, almonds, banana chips and shredded coconut and set aside.
3. Whisk together Florida Orange Juice and sugar until the sugar is dissolved. Once the sugar is completely dissolved, pour the mixture into the dry ingredients and fold ingredients together until well incorporated.*
4. Spread wet granola mixture in a thin, even layer on a parchment-lined baking sheet.
5. Bake for approximately 40 minutes, stirring every 10 minutes. The granola will be a golden brown color and will cluster together when fully baked.
6. Allow granola to cool completely before transferring to an airtight container. Enjoy for up to 2 weeks.
*Tip: Do not over stir. Over stirring will cause the granola to break down and make it difficult to achieve the granola clusters we're looking for.
Nutrition Facts
Amount per serving
Calories
253
% Daily Value*

Total Carbohydrate

65.9g

24%
*The % Daily Value tells you how much a nutrient in a serving of food contributes to a daily diet. 2000 calories a day is used for general nutrition advice.