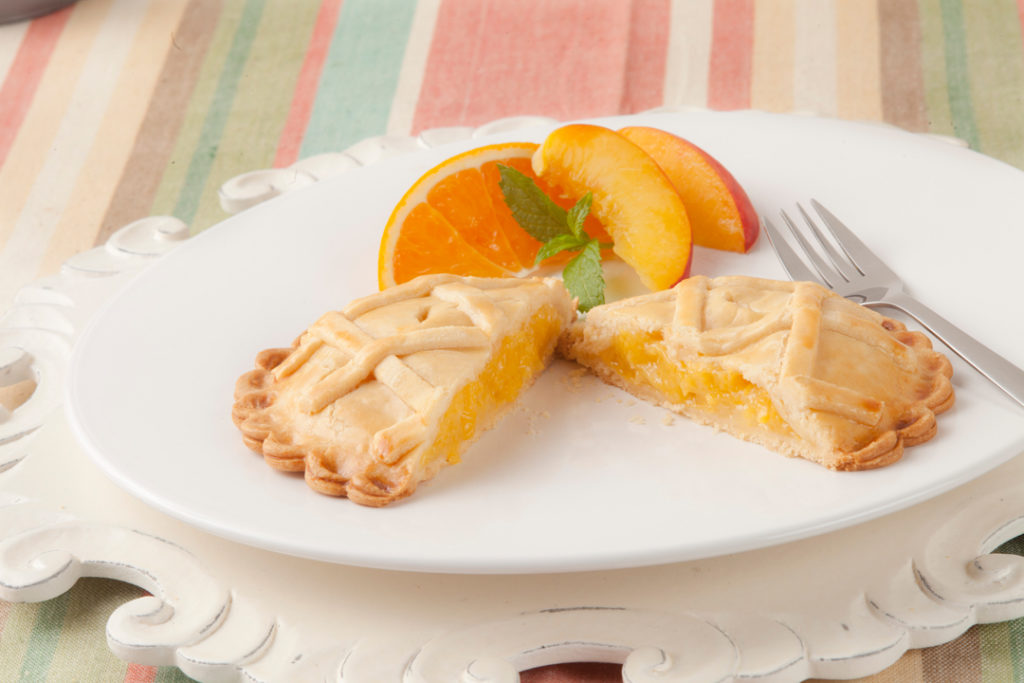 Florida Orange Peach Hand Pies
Ingredients
1 cup (240 ml) Florida Orange Juice

8 Georgia peaches

½ cup sugar

1 tbsp. lemon juice

2 tbsp. cornstarch

2 tsp. fresh ginger, minced                           .

1 tsp. Florida orange zest

2 tbsp. butter

2 prepared pie dough sheets

2 large eggs, large, beaten

2 tbsp. milk
Preparation
Florida Orange Peach Hand Pies
Bring large pot of water to boil. Drop peaches into boiling water for about 5 seconds; remove from boiling water and place in bowl of ice water to cover. Peel skin from peaches; cut in half and remove pit. Discard skin and pits. Cut peaches into slices; toss with sugar and lemon juice. Reserve.
Combine Florida Orange Juice, cornstarch, ginger and Florida Orange Zest in small saucepan. Bring to a simmer, stirring constantly with wire whisk. Simmer for 1 minute; remove from heat. Cool slightly and add butter; stir until butter melts. Pour Florida Orange Juice mixture over peaches; mix well.
Cut 6 (5-inch) circles out of pie dough sheets. Place large spoonful of peach filling in center of each circle. Fold one side over to form semi-circle or half-moon shape; press down well with fingers or fork to seal. Whisk eggs and milk together; brush outside of hand pies with egg mixture. Bake in a 350° F degree oven until lightly browned or fry in a 350° F deep fryer until golden brown. Allow to cool slightly before serving.