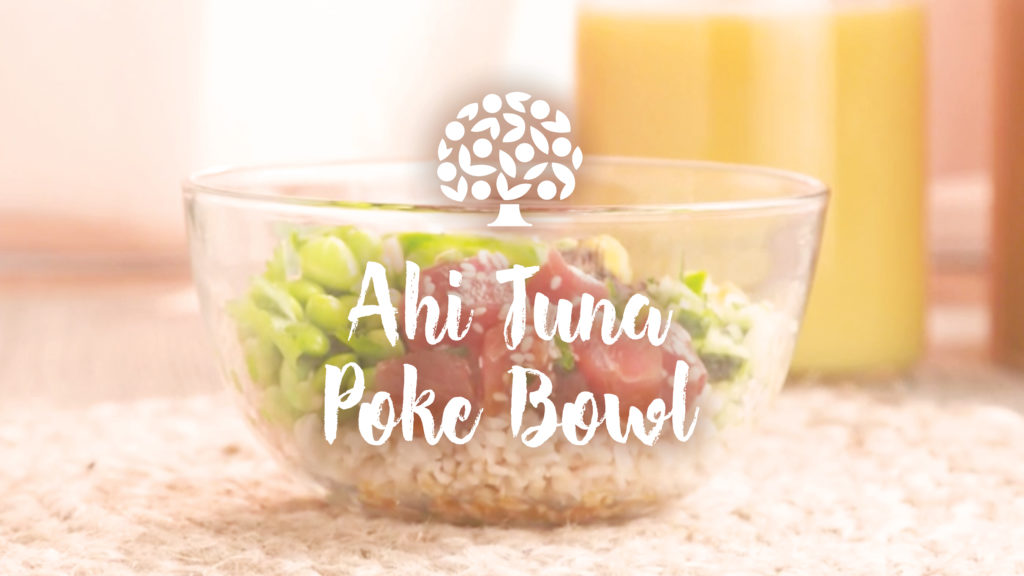 Florida Orange Juice Ahi Tuna Poke Bowl
The nutrient rich Ahi Tuna Poke Bowl features the healthy benefits of Florida Orange Juice and is a great source of Omega-3, an essential fat important for cell health that our body cannot naturally produce.

The easily customizable meal also delivers 40 – 60% of your daily fiber requirement and is a great source of protein thanks to the Ahi Tuna and Edamame. The combination of ingredients and Florida Orange Juice not only featuring an amazing taste but allows the body to more efficiently absorb iron.
Ingredients
¼ cup (60 ml) Florida Orange Juice
½ cup (120 ml) soy sauce
2 tbsp. lime or lemon juice
1 tbsp. Mirin (sweet rice wine) or rice vinegar
¼ cup mayonnaise
1-2 tbsp. Sriracha
Splash of lemon or lime juice
3-4 cups white or brown rice, cooked
1 pound sushi-grade Ahi Tuna, diced
3 green onions, sliced
2 avocados, diced
1 cup diced cucumber
1 cup diced mango
1 cup shelled edamame, steamed
1 jalapeño pepper, sliced
Cilantro leaves
2-3 tbsp. sesame seeds
½ cup macadamia nuts, chopped (optional)
1 tbsp. toasted sesame oil (optional)
Furikake (optional)
Preparation
For creamy Sriracha sauce:
Florida Orange Juice Ahi Tuna Poke Bowl
1. Add mayonnaise, Sriracha and lemon juice to a small mixing bowl. Mix to combine. Season with salt and pepper to taste if needed.

For Florida Citrus Ponzu:
Florida Orange Juice Ahi Tuna Poke Bowl
1. In a bowl, add the Florida Orange Juice, lime juice, Mirin and soy sauce. Whisk well to combine.
For Ahi Tuna:
Florida Orange Juice Ahi Tuna Poke Bowl
1. Place the tuna in a medium mixing bowl with the green onions (reserve some of the green onions to use as garnish).

2. Add some of the Florida Citrus Ponzu (to your taste, you can reserve some to pour over the rest of the ingredients). Add sesame seeds. Mix gently to combine. Cover and refrigerate for 30 minutes to an hour.
3. Pile it up! Put rice into serving bowls and top with your desired toppings. Add extra Florida Citrus ponzu if desired and drizzle a bit of toasted sesame oil (optional). Add the chilled tuna. Top with macadamia nuts (optional), and drizzle with the creamy Sriracha sauce.