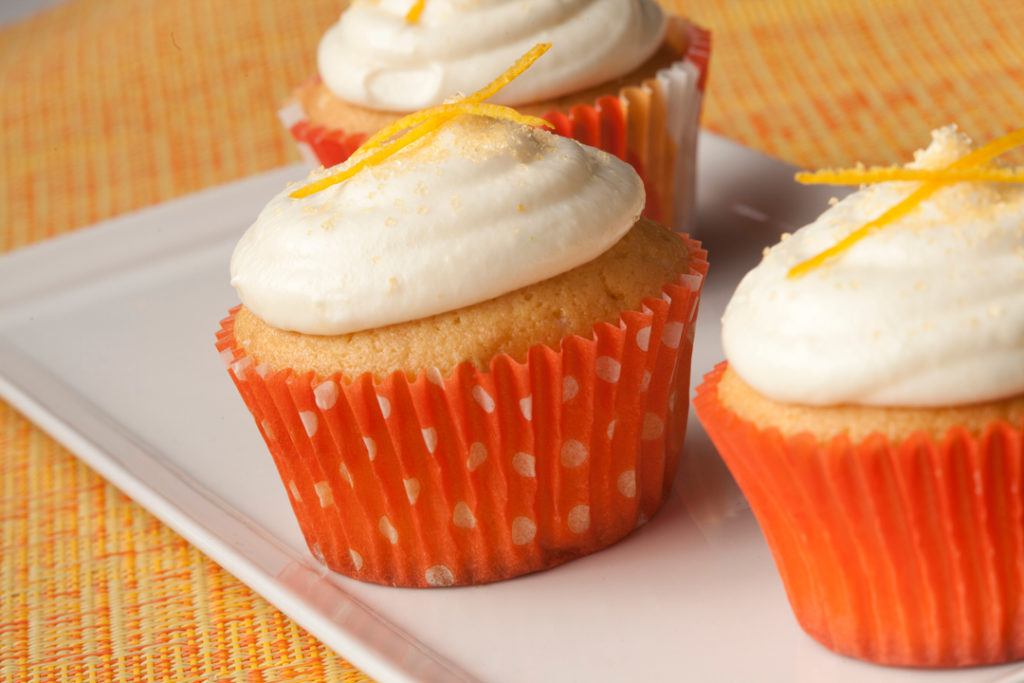 Ingredients
Cream Cheese Icing:
1 tsp. Florida orange zest, chopped                      .

½ cup heavy cream, chilled

8 oz. cream cheese, at room temperature

4 tbsp. unsalted butter, at room temperature

½ cup pure maple syrup, pure

1 tsp. vanilla extract
Florida Orange Cupcakes:
2 tbsp. Florida orange juice

5 large eggs

1 cup sugar

2 tbsp. water

1 tbsp. orange zest, chopped

½ tsp. ground nutmeg

2 cups cake flour

cupcake liners
Florida orange zest
Preparation
Florida Orange Cupcakes
Icing:
Whip heavy cream to stiff peaks; reserve. Combine cream cheese, butter, maple syrup, Florida Orange Zest and vanilla extract in mixing bowl; beat with mixer until combined. Fold in whipped cream; refrigerate until chilled. When ready to use, mix gently by hand until soft.
Cupcakes:
Combine eggs and sugar in metal mixing bowl. Rest bowl over pot of lightly simmering hot water. Whisk with wire whisk until eggs become warm, frothy and light in color. Place egg mixture in mixing bowl; beat with whisk attachment of mixer on medium speed. Add Florida Orange Juice and water; whisk for 15 minutes, until mixture is cooled. Add Florida Orange Zest and nutmeg. Gently fold in flour with a rubber spatula until just combined; batter will be slightly lumpy, do not overmix.
Preheat oven to 325° F. Place cupcake liners in cupcake pans; fill three-fourths full with batter. Bake for 10 to 15 minutes, until cooked through and lightly browned on top. Toothpick inserted in center will come out clean. Remove cupcakes from pan; cool on wire rack completely. Just before serving, place Cream Cheese Icing in pastry bag; pipe icing on top of cupcakes and garnish with Florida Orange Zest. Serve immediately.