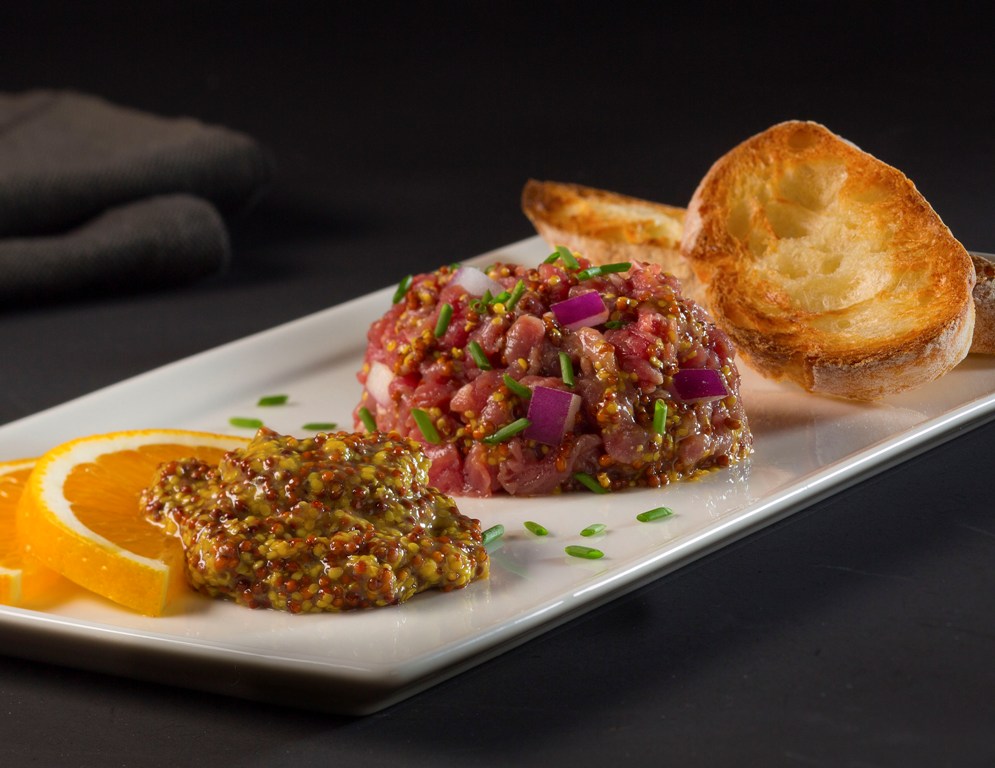 Ingredients
Florida Orange Slices, if desired

½ cup (120 ml) Florida Orange Juice

1 cup Pommery® mustard*

2 tbsp. dry mustard

2 tbsp. sweet soy sauce

2 tbsp. ketchup

1 lb. (454 grams) beef tenderloin, minced     .

3 tbsp. red onion, minced

2 tbsp. chives, minced

8 baguette toast points

Chives, chopped, if desired
Preparation
Florida OJ Steak Tartare
Combine Pommery® mustard, Florida Orange Juice and dry mustard; remove one-half of mixture and reserve. Add soy sauce and ketchup to remaining mustard mixture; stir to combine. Add beef tenderloin, red onion and chive to mustard mixture; mix gently to combine.

Form Steak Tartare into 4 rounds. To serve, place Steak Tartare round on serving plate; add 2 baguette toast points and a dollop of reserved mustard mixture. Garnish with Florida Orange Slices and chopped chives, if desired.

*Pommery® mustard can be purchased at specialty supermarkets or online. Spicy whole grain mustard can be substituted for Pommery® mustard.
**Consuming raw or undercooked meats, poultry, seafood, shellfish or eggs may increase your risk of foodborne illness, especially if you have certain medical conditions.