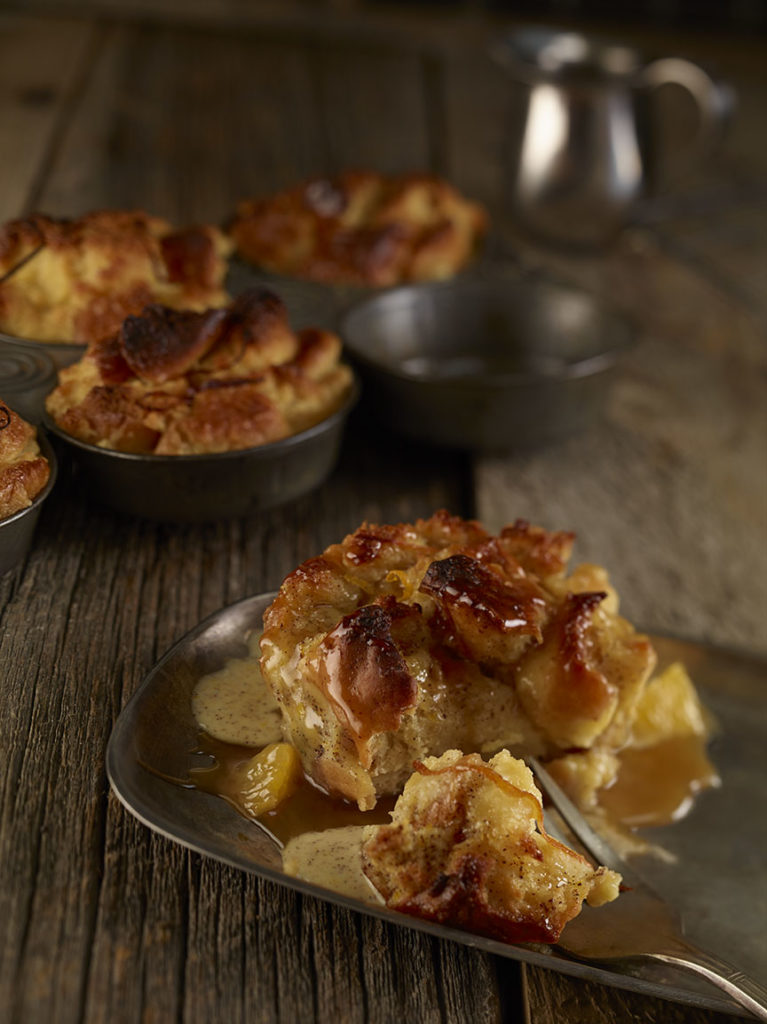 Bourbon and Orange Bread Pudding Recipe
Ingredients
1/4 cup (60 ml) Florida Orange Juice

1 cup Florida Oranges, segmented

4 each Sweet Portuguese rolls

1 each Vanilla bean, scraped

1 quart Heavy cream

5 each Egg yolks

1 tablespoon Orange zest

1/2 cup Sugar

1 teaspoon Saigon cinnamon

1/4 cup Brown sugar

3 tablespoons Butter

1/4 cup Bourbon
Preparation
Bourbon and Orange Bread Pudding Recipe
Step 1:
Over a double boiler, combine the orange juice, vanilla bean, heavy cream, egg yolks, zest, sugar and cinnamon. Whisk every few minutes for 15 minutes. Remove and let cool.
Step 2:
In a small pot, combine the brown sugar and butter. Bring to a simmer and away from the flame, add the bourbon.
Step 3:
Return to the stove to cook off the alcohol. Turn off the heat and keep warm.
Step 4:
Mix the diced bread with half of the heavy cream mixture. Mix well, then pour into a 2-inch half hotel pan; cover with aluminum foil.
Step 5:
Fill a 4-inch half hotel pan with 2 inches of water, place the 2-inch half hotel pan inside the larger, water-filled pan, and bake at 375ºF for 35 minutes.
Step 6
Right before serving, drizzle some of the heavy cream mixture onto a plate, place a piece of bread pudding over the top.
Step 7:
Mix the orange segments with the bourbon sauce and spoon over the bread pudding.