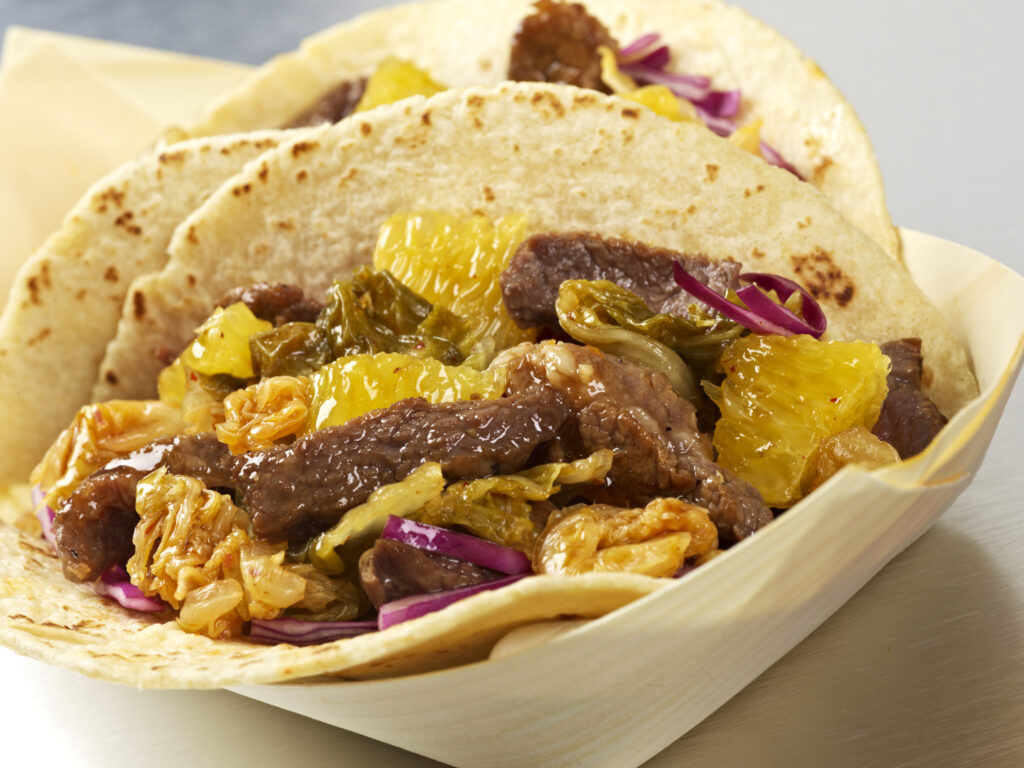 Korean Taco With Florida Citrus Kimchi
Ingredients
For Marinade:
1/2 cup soy sauce

1/4 cup (60 ml) Florida orange juice

1/4 cup chopped green onion

3 tablespoons honey

1-1/2 tablespoons rice wine

1 tablespoon rice vinegar

1 tablespoon minced ginger

2 teaspoons minced garlic

2 teaspoons sesame oil

1 teaspoon fresh ground pepper

2 pounds beef short ribs, boneless, thinly sliced
For Florida Citrus Kimchi:

1 cup Kimchi (Korean spicy pickled cabbage)

1/4 cup Florida orange segments

2 teaspoons lime juice

1/4 teaspoon sesame oil

For assembly:
6 flour tortillas

2 cups shredded red cabbage
Preparation
Korean Taco With Florida Citrus Kimchi
Prepare Marinade; Combine all ingredients in a bowl; mix thoroughly to combine.
Place short ribs in a nonmetallic dish. Pour marinade over short ribs; cover and refrigerate. Marinate at least three hours or preferably overnight.

Prepare Florida Citrus Kimchi; Combine all ingredients in bowl; toss to combine. Reserve.
Drain marinade from short ribs; discard marinade. Grill short rib slices over medium-high heat for 1 to 2 minutes per side. Remove cooked slices from grill; place on cutting board. Slice short rib slices crossways into small, bite-sized pieces of meat.

To assemble tacos, heat tortillas over medium heat on the grill or in a sauté pan. Place a small amount of shredded cabbage in the center of each tortilla; top with 1/4 cup short rib meat and 2 tablespoons Florida Citrus Kimchi. Serve immediately.