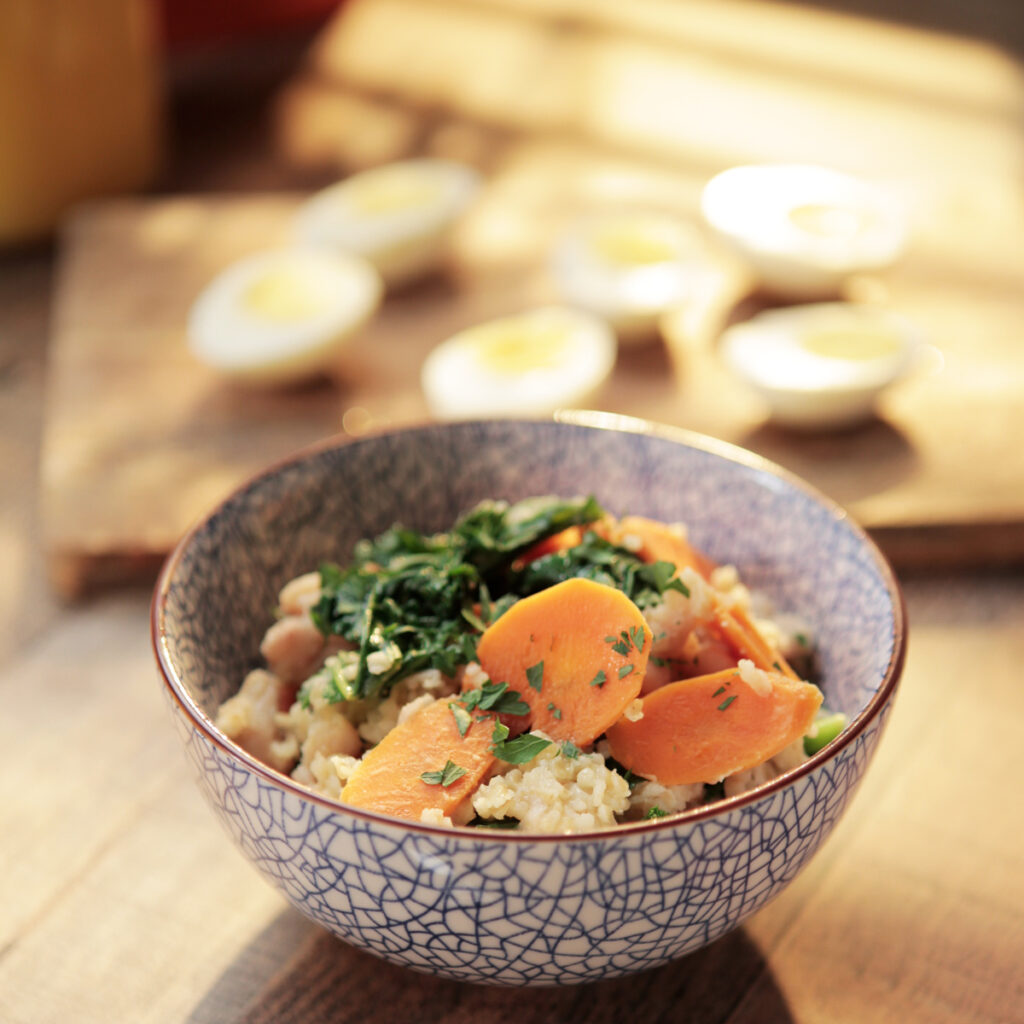 Heart Healthy Bulgur Grain Bowl
Our Heart Healthy Bulgur Grain Bowl offers a healthy and flavorful meal for your whole family to enjoy. The kale provides important nutrients, such as folate and fiber, which may help you and your family maintain a healthy weight and promotes muscle growth. Made with the great taste and nutritional benefits of Florida Orange Juice, our bowl is packed with vitamin C and potassium.
Ingredients
½ cup (60ml) + 2 tbsp. Florida Orange Juice
⅔ (160ml) cup water
½ cup bulgur
1 tsp. kosher salt, divided
2 tbsp. olive oil, divided
2 cups thinly sliced carrots
2 cups packed chopped kale
1 15-oz. can cannellini beans, drained and rinsed
Freshly ground black pepper to taste
2 tbsp. chopped parsley
4 hard-boiled eggs (optional)
Preparation
| Prep Time | Cook Time | Total Time |
| --- | --- | --- |
| 5 minutes | 25 minutes | 30 minutes |
1. Combine the water and ½ cup Florida Orange Juice in a small saucepan, set over high heat and bring to a simmer.
2. Add the bulgur and ½ teaspoon of salt and stir to combine.
3. Cover, remove from the heat and set aside for 15 minutes or until most of the liquid has absorbed and the bulgur is tender.
4. In the meantime, place one tablespoon of olive oil in a medium sauté pan and set over medium high heat until the oil shimmers.
5. Add the carrots and remaining ½ teaspoon of salt.
6. Cook, stirring frequently, for 3 to 4 minutes or until the carrots just begin to turn golden.
7. Add the kale and continue to cook another 2 to 3 minutes or until the kale is wilted and the carrots are tender.
8. Combine remaining two tablespoons of Florida Orange Juice and one tablespoon of olive oil in a small jar and shake.
9. Transfer bulgur, carrots, kale and beans to a large mixing bowl, season with freshly ground black pepper and add Florida Orange Juice dressing and toss to combine.
10. Taste bulgur and season with additional salt and pepper as desired.
11. Garnish with parsley