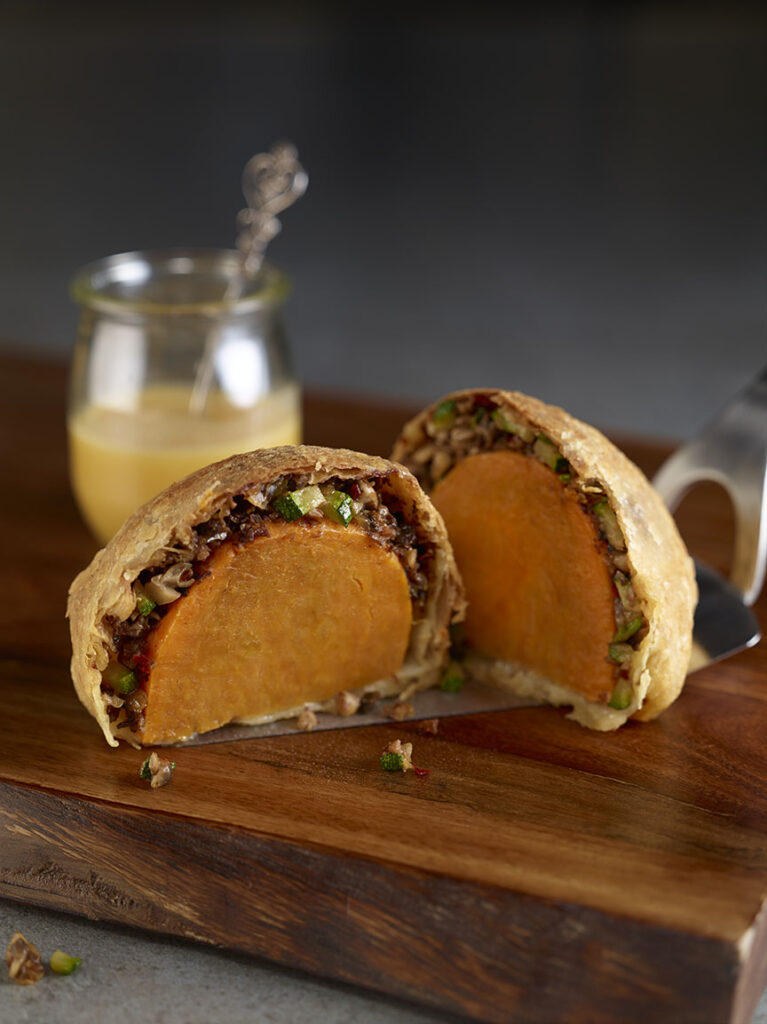 Sweet Potato Vegetarian Wellington with Mushroom Duxelle
Ingredients
1 cup (240 ml) Florida Orange Juice, divided
4 tbsp. olive oil, divided
2 cups button mushrooms, minced
½ cup shallots, minced
6 tbsp. unsalted butter, divided
Salt and white pepper to taste
½ cup green squash, minced
1 tsp. chili flakes
4 sheets puff pastry
4 sweet potatoes, ¾ baked, peeled
Preparation
1. In a large rondeau over high heat, add 2 tablespoons olive oil and the mushrooms. Cook until the mushrooms are caramelized, approximately 12 to 14 minutes.
2. Add the shallots and 4 tablespoons of butter and cook for another 3 to 4 minutes. Season with salt and white pepper. Place the mixture on a sheet pan lined with parchment paper and allow to cool.
3. Without cleaning the rondeau, add 2 tablespoons olive oil over high heat. Add the green squash and sauté until golden brown. Add the chili flakes and ½ cup of Florida Orange Juice.
4. Reduce until almost dry, add to the mushroom mixture, and let cool.
5. Preheat oven to 350º F.
6. In a small pot, reduce the remaining ½ cup of Florida Orange Juice by half and whisk in 2 tablespoons butter. Keep warm.
7. When the mushroom, shallot and green squash mixture has completely cooled, lay each individual puff pastry sheet on a parchment-lined sheet pan.
8. Spread the mixture equally over the entire puff pastry sheet, leaving ⅓ inch around each edge.
9. Place the sweet potatoes into the middle of each puff pastry sheet and roll the puff pastry around the potatoes, sealing the pastry shut.
10. Bake in the oven for 20 minutes or until the puff pastry is golden brown.
11. Spoon the butter and Florida Orange Juice reduction around the edge of each puff pastry. If desired, garnish with Florida Orange zest.