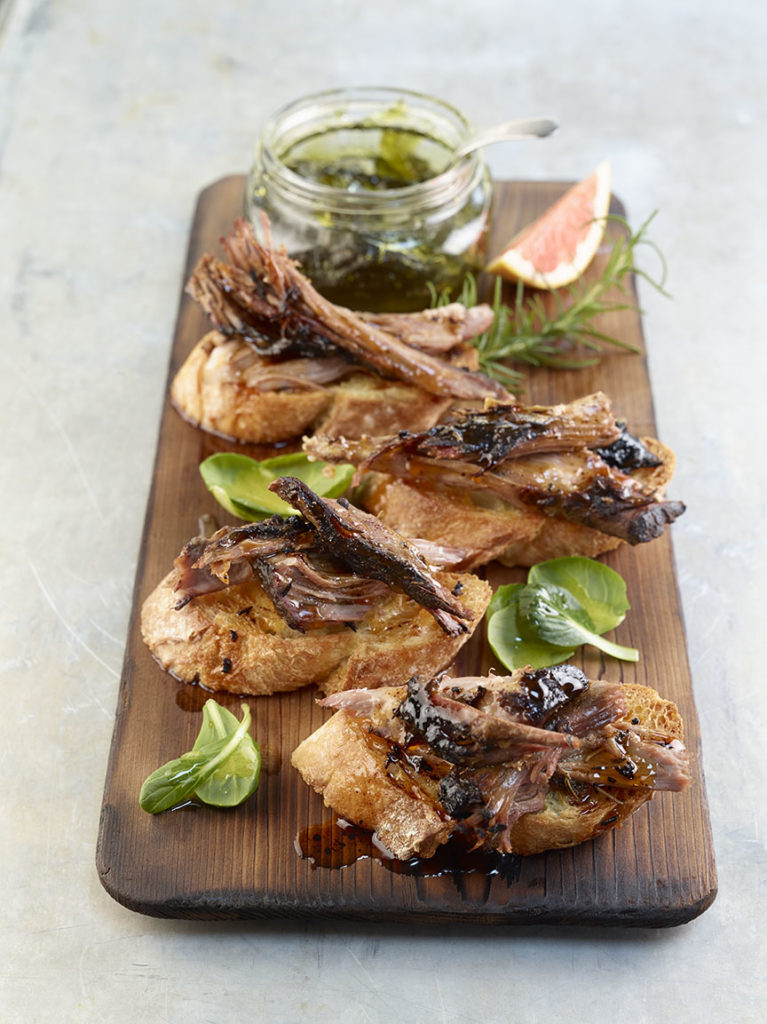 Smoked Lamb Shoulder With Citrus Mint Gastrique
Ingredients
3 cups (720 ml) Florida Grapefruit Juice

2 tablespoons Florida Orange zest

1/4 cup Dried rosemary

1/4 cup Dried thyme

1/4 cup Black peppercorns, crushed

1/4 cup Smoked paprika

1/4 cup Brown sugar

2 tablespoons Kosher salt

1 each Lamb shoulder, bone in

1 cup Mint jelly

1/4 cup Apple cider vinegar

1/2 loaf French bread, sliced 1/4-inch thick on a bias

Olive oil

Salt

White pepper

2 cups Mesclun greens

1/4 cup Apple cider vinaigrette
Preparation
Smoked Lamb Shoulder With Citrus Mint Gastrique
Combine the spices; divide the mixture in half. Place the lamb shoulder in a stainless steel bowl. Mix one half of the spices with 2 cups of grapefruit juice; pour over the lamb.

Prepare your smoker using cherry wood. After 1 hour of marinating, remove the lamb from the liquid, pat dry and coat with the other half of the spice mixture.

Smoke the lamb over a bed of aluminum foil for 10 hours, until fork tender. Remove the lamb from the smoker. Let rest for 20 minutes.

While the lamb is resting, in a small saucepot, add the mint jelly and remaining 1 cup of grapefruit juice. Reduce for approximately 20 minutes until the mixture becomes syrupy. Add the apple cider vinegar, remove from heat and keep warm.

Brush the cut French bread with olive oil and season with salt and pepper; toast the bread and lay 4 slices on each plate.

Pull the lamb shoulder into pieces, each about the same size as half an egg. Place the meat over the toast points, drizzle the mint jelly and grapefruit juice gastrique over the top, and garnish in between with mesclun that has been tossed with the vinaigrette.