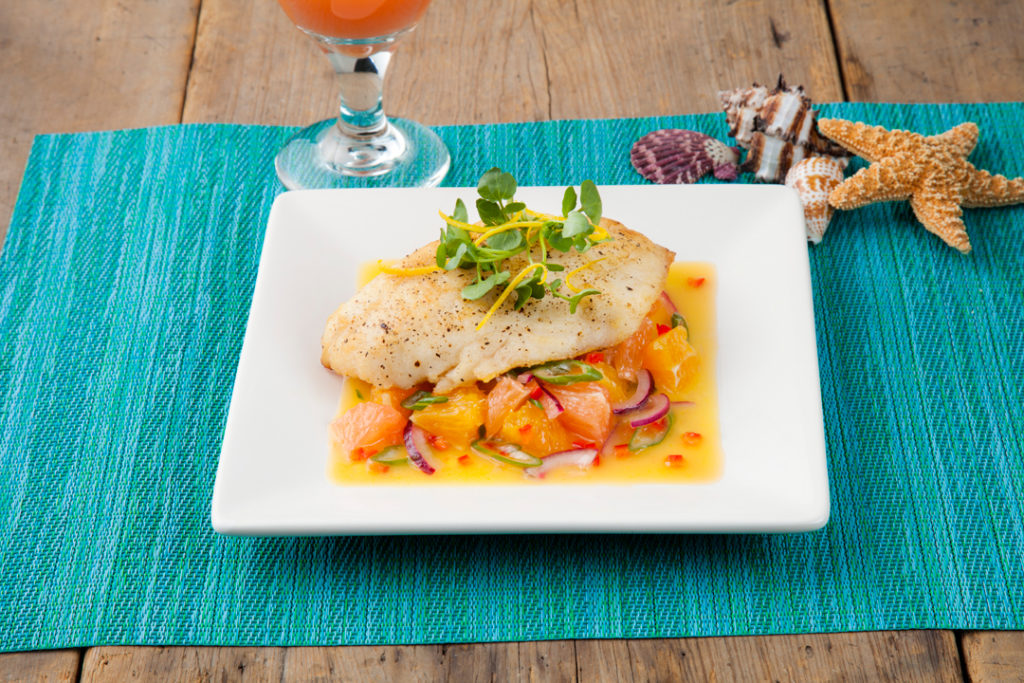 Pan Seared Grouper With Florida Citrus Salad
Ingredients
3 cups Florida orange segments, seeded

1 ½ cups Florida grapefruit segments, seeded

¼ cup lime segments, seeded

½ cup red bell pepper, diced

3 jalapeño peppers, diced

1 cup red onion, diced

½ cup green onion, chopped

Salt to taste

Pepper to taste

6 Florida grouper fillets, skin removed

2 cups all-purpose flour

2 tablespoons olive oil, plus more as needed
Preparation
Pan Seared Grouper With Florida Citrus Salad
1. Remove outer skin and all white pith from oranges, grapefruits and limes. Use small knife to remove segments, leaving behind any pith.

2. Squeeze remaining pith for any juice. Place orange, grapefruit and lime segments in bowl along with juice.

3. Add red peppers, jalapeño peppers, red onion and green onion. Season with salt and pepper to taste; chill.

4. Season grouper fillets with salt and pepper. Dredge grouper in flour on both sides; shake off any excess.

5. Heat large skillet over medium-high heat; add 2 tablespoons olive oil.

6. When hot, add fillets to pan in single layer and cook until edges begin to brown. Use two large skillets or repeat process, if necessary.

7. Turn fish over with metal spatula; cook on other side until fish is cooked through and flakes easily when tested with a fork.

8. To serve, divide Florida Citrus Salad among 6 plates, placing salad in middle of plate along with some juices. Place grouper fillet on top of salad; drizzle with olive oil, if desired.