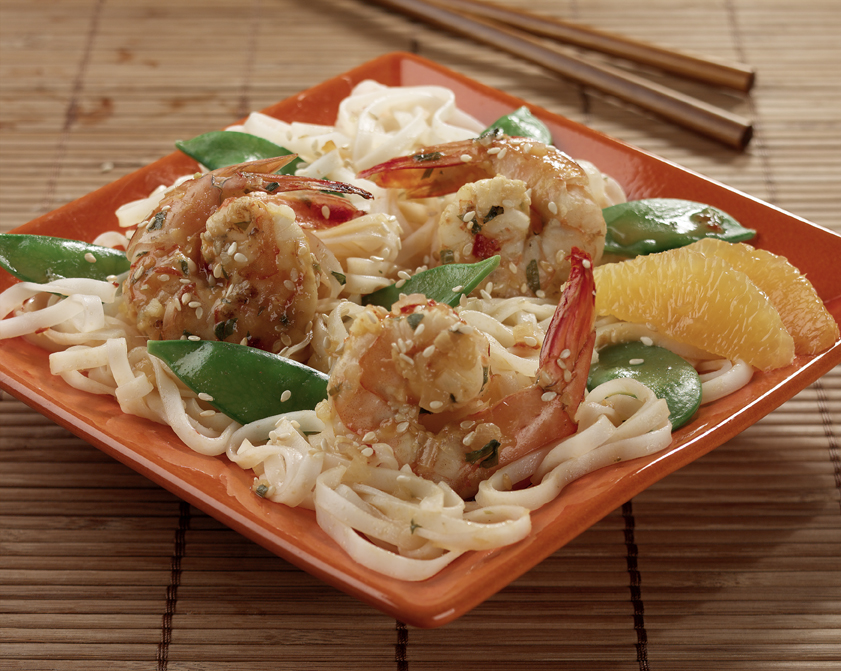 Orange Tarragon Ginger Shrimp With Rice Noodles
Ingredients
1 cup (240 ml) Florida orange juice

12 jumbo raw shrimp, peeled, deveined, tails attached

2 tablespoons fresh tarragon, finely chopped

1 tablespoon olive oil

1 tablespoon fresh ginger, finely chopped

1 shallot, finely chopped

1 (8-ounce) package rice noodles, prepared according to package directions

1 tablespoon sesame seed oil

Nonstick cooking spray

2 cups fresh snow peas

1 tablespoon toasted sesame seeds

1 tablespoon Asian hot chili sauce, optional
Preparation
Orange Tarragon Ginger Shrimp With Rice Noodles
Combine orange juice, shrimp, tarragon, olive oil, ginger and shallot in a zipper-seal plastic bag. Seal bag securely; toss gently to combine ingredients. Marinate for 1 hour in the refrigerator.
Prepare rice noodles according to package directions. Drain and combine with sesame seed oil; toss to coat evenly; reserve.
Spray wok with nonstick cooking spray and heat over medium heat. Drain shrimp mixture; reserve 1/2 cup marinade and discard remaining marinade. Add shrimp and reserved 1/2 cup of marinade to wok; bring to a boil and stir fry shrimp for 1 to 2 minutes. Add snow peas; stir fry for 3 more minutes, just until snow peas are tender crisp and shrimp is cooked through. Add sesame seeds and chili sauce, if desired. Remove from heat and add reserved rice noodles; toss to combine and serve immediately.