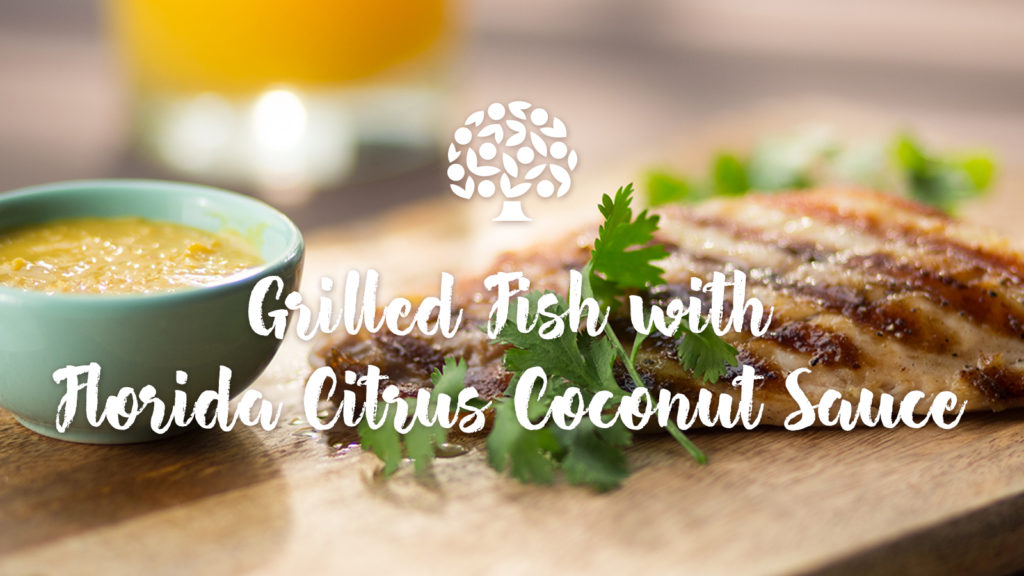 Grilled Fish with Coconut Citrus Sauce
For an easy weeknight dinner, our Grilled Fish with Coconut Citrus Sauce is a light and simple recipe you can feel good about feeding your family. Incorporating Florida Orange Juice into the recipe adds vitamins and nutrients that may support living a healthier lifestyle.
Ingredients
4 cups (960 ml) Florida Orange Juice

1 tbsp. oil

3 cups red onion or shallots, sliced

4 cups (960 ml) coconut milk

10 pods cardamom

1 bunch cilantro, chopped, for garnish

¼ cup Dijon mustard

¼ cup soy sauce

2 tbsp. coriander

2 tsp. turmeric

10 filets tilapia, bass or other mild fish

5 limes, halved

3 Florida Grapefruits, segmented, for garnish
Preparation
Grilled Fish with Coconut Citrus Sauce
Step 1:
Heat large saucepan over medium-high heat.
Step 2:
Add oil and onions; cook until onions are golden-brown in color.
Step 3:
Add Florida Orange Juice and coconut milk to deglaze pan.
Step 4:
Bring to a boil; lower heat and cook until reduced by one-third. Add cardamom, Dijon mustard, soy sauce, coriander and turmeric. Stir well to combine. Simmer on low for 30 minutes.
Step 5:

Grill fish and squeeze each fillet with juice of ½ lime just as it comes off the heat.
Step 6:
Spoon Florida Citrus Coconut Sauce over fish and garnish with Florida Grapefruit segments and cilantro. Serve immediately.
Helpful Tip:
Refrigerate remaining Florida Citrus Coconut Sauce to use for other meals throughout the week.