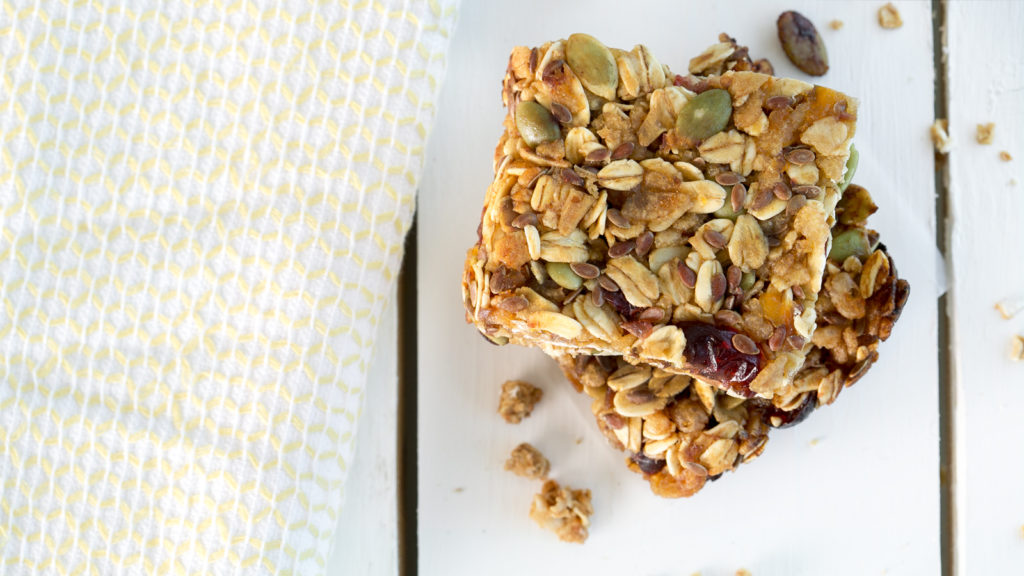 Florida Orange Juice Chewy Granola Bar
Need a quick and nutritious breakfast or snack recipe? Try our new Chewy Granola Bar recipe that your kids can quickly grab as an afternoon snack or in the morning as they head out the door. Oh, and did we mention—it's gluten-free!
Ingredients
½ cup (120 ml) Florida Orange Juice

2 cups old fashioned oats

2 cups puffed rice

½ cup pumpkin seeds

¼ cup flax seed

½ cup chopped dates

½ cup dried cranberries

½ cup chopped dried apricots

¼ cup packed brown sugar

¼ cup honey

1 tsp. kosher salt

½ tsp. ground ginger

1 egg, beaten well

Non-stick canola spray
Preparation
| Prep Time | Cook Time | Total Time |
| --- | --- | --- |
| 20 minutes | 40 minutes | 1 hour |
Florida Orange Juice Chewy Granola Bar
Step 1
Heat oven to 350 degrees F.
Step 2:
Spray a 13 by 9 inch cake pan lightly with non-stick spray, line the bottom and 2 sides of the pan with parchment paper, creating a sling to make granola easier to remove. Set aside.
Step 3:
Spread oats, puffed rice, pumpkin seeds and flax seeds on a baking sheet and toast in oven 10 to 12 minutes or until lightly browned and fragrant. Remove to a large mixing bowl and stir to combine.
Step 4:
Decrease oven heat to 325 degrees F.
Step 5:
Place Florida Orange Juice, dates, cranberries, apricots, brown sugar, honey, salt, and ginger into a medium saucepan.
Step 6:
Set over medium high heat and stir to break up the clumps of dates. Cook just until the sugar dissolves.
Step 7:
Remove from the heat, pour over the dry mixture and stir to combine well.
Step 8:
Add the beaten egg and stir to combine.
Step 9:
Transfer to the prepared cake pan and press evenly into the pan using a rubber spatula.
Step 10:
Bake 25 to 30 minutes, until light golden brown.
Step 11:
Remove from oven and cool completely before cutting into squares or rectangles.
Step 12:
Store in an airtight container for up to 1 week.