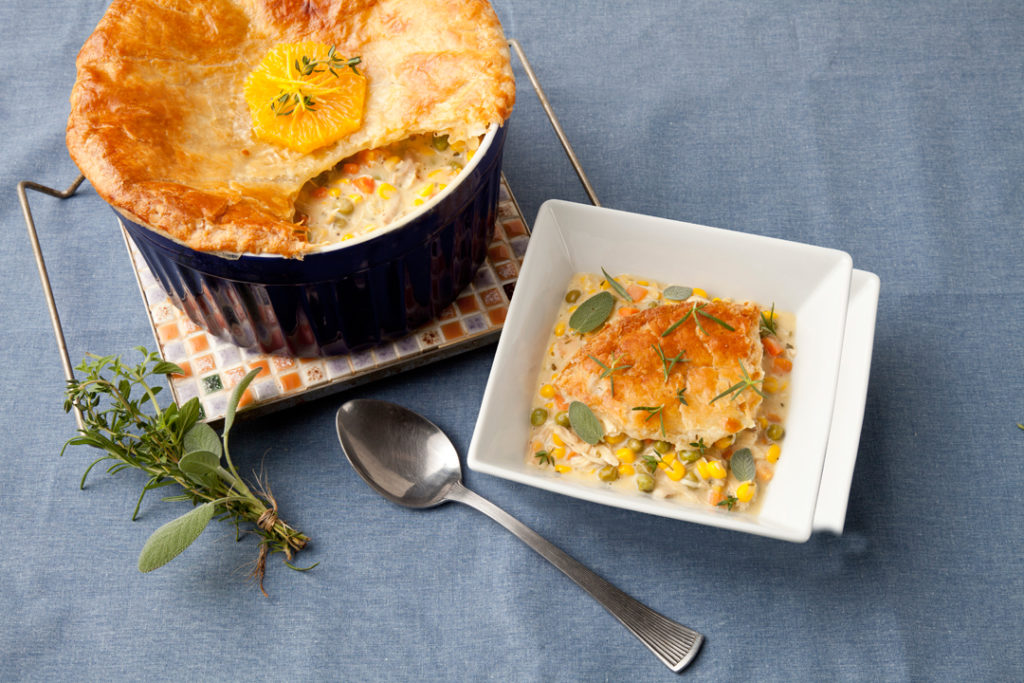 Florida Orange Chicken And Corn Pot Pie
Ingredients
Florida Orange Chicken:
1 whole chicken

4 cups (960 ml) Florida orange juice

3 cups onion, chopped

1 cup carrot, cut into ½-inch slices

1 cup celery, cut into ½-inch slices

6 cloves garlic

1 teaspoon ground cumin

Water as needed
Corn Pot Pie:
2 cups leeks, chopped

8 tablespoons butter, divided

1 tablespoon garlic, chopped

8 tablespoons flour

1 cup (240 ml) Florida orange juice

1 cup (240 ml) cream

2 cups whole kernel corn, frozen

1 cup peas, frozen

1 cup carrot, chopped

¾ cup dried cranberries

1 bay leaf

1 tablespoon fresh thyme, chopped

1 tablespoon fresh rosemary, chopped

1 teaspoon orange zest, chopped

¼ teaspoon ground nutmeg

⅛ teaspoon ground cloves

1 sheet puff pastry

2 large eggs, beaten

2 tablespoons milk

Florida orange slice, for garnish

Fresh thyme, for garnish
Preparation
Florida Orange Chicken And Corn Pot Pie
For Florida-Orange Chicken: Rinse chicken under cold water. Place chicken in large stock pot; add orange juice, onions, carrots, celery, garlic and cumin. Add enough water to just cover chicken; bring to a simmer, then lower heat to a light simmer. Cook until thermometer inserted in center of chicken breast reads 155°F. Remove stockpot from heat; cover and let stand for 45 minutes.

Remove chicken from stock; cool slightly. Remove breasts and legs from chicken; shred breast meat and leg meat into 1-inch pieces. Reserve chicken. Strain stock; discard any bones and vegetables. Reserve stock.

For Corn Pot Pie: Place leeks, 2 tablespoons butter and garlic in large saucepan over medium heat. Cook for 4 to 5 minutes, until leeks are tender and garlic is fragrant. Add remaining 6 tablespoons butter; stir until melted. Add flour; stir to form a paste. Add reserved stock one-third at a time, stirring well after each addition. Cook for 15 minutes over low heat, stirring often. Add orange juice, cream, reserved chicken, corn, peas, carrots, cranberries, thyme, rosemary, orange zest, nutmeg and cloves; cook for additional 15 minutes. Remove from heat; remove bay leaf.

Place 8-inch round casserole dish on top of puff pasty. Cut puff pastry in circle 1 inch wider than casserole dish on all sides. Spoon pot pie filling into baking dish; cover with puff pastry circle. Fold pastry dough down over outside rim of dish; press to seal. Whisk eggs and milk together; brush puff pastry with egg mixture.

Bake at 375° F for 20 to 25 minutes, until crust is golden brown. Remove from oven; cool slightly. Garnish with orange slice and fresh thyme. Using large spoon, place filling and some crust into serving dishes.