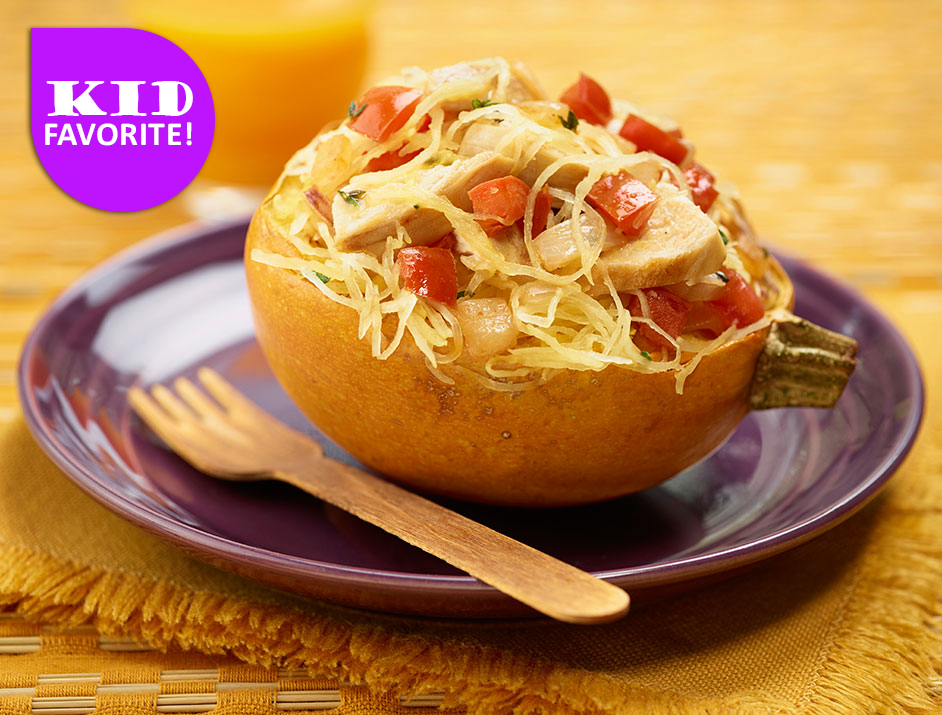 Florida OJ Spaghetti Squash Noodles with Chicken
Ingredients
1 cup Florida Orange Juice, divided

2 cups spaghetti squash

2 cups plum tomato, diced

1 garlic clove, minced

½ large, yellow onion, cut into small dice

1 tsp. fresh thyme, minced

9 oz. roasted chicken, sliced
Preparation
Florida OJ Spaghetti Squash Noodles with Chicken
2. Slice the squash in half, lengthwise from tip to tip; scoop out seeds with spoon.

4. Cook until tender when pierced with a knife, about 40–50 minutes.

6. Cook until onions are soft and translucent, 5–8 minutes. Add remaining Florida Orange Juice.

8. Add sliced chicken and warm until internal temperature of 165°F has been reached.

1. Preheat oven to 375°F.

3. Lay squash halves on a sheet pan, cut side down; pour half of the Florida Orange Juice onto the pan and place in oven.

5. In a large sauté pan over medium heat, add the tomatoes, garlic, onion, and thyme.

7. Reduce until liquid is almost gone, about 3–4 minutes.

9. Remove the squash from the oven and fork out the "spaghetti." Mix "spaghetti" and chicken mixture together and serve in the squash shell.
Nutrition Facts
Amount per serving
Calories
651
% Daily Value*

Total Carbohydrate

85.5g

31%
*The % Daily Value tells you how much a nutrient in a serving of food contributes to a daily diet. 2000 calories a day is used for general nutrition advice.