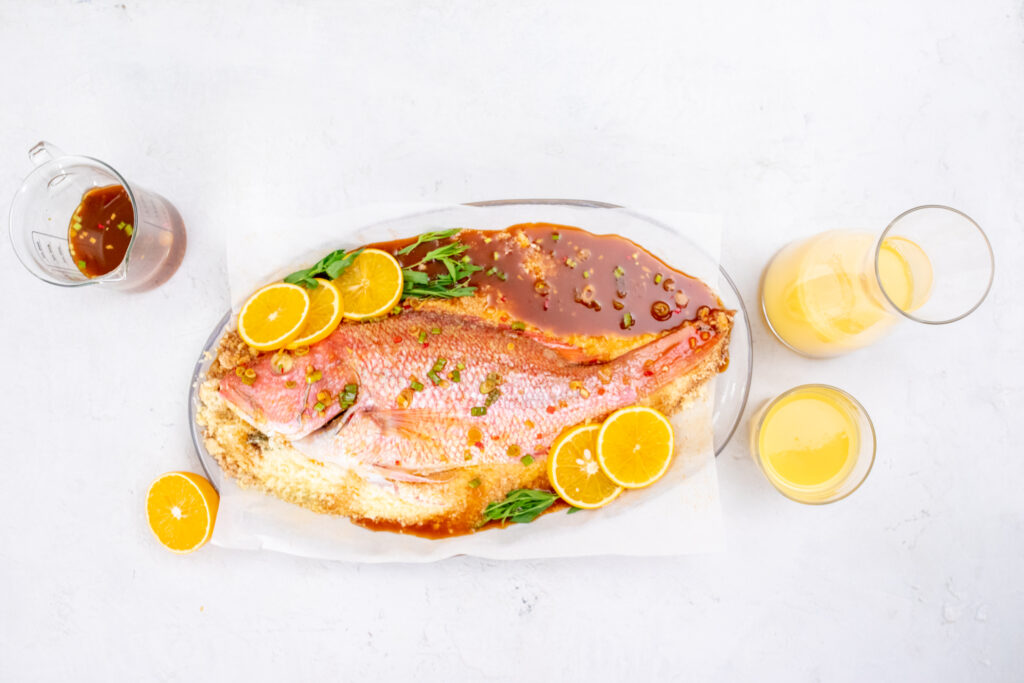 Florida Citrus Red Snapper with Orange Thai Chile Sauce
Ingredients
10 Florida Orange Slices, 1/4-inch thick, divided

½ cup Florida Orange Zest, thinly sliced

3 lbs. kosher salt

8 egg whites, whipped to soft peaks

1 red snapper (4-5 lbs.), whole, descaled

12 fresh tarragon sprigs, divided
For Thai Chile–Orange Sauce:
3 cups (720 ml) Florida Orange Juice

1/3 cup soy sauce

1/3 cup mirin

1/3 cup rice wine vinegar

4 Thai chiles, seeded, minced

½ cup green onions, minced

¼ cup fresh ginger, minced

¼ cup brown sugar

Preparation
Florida Citrus Red Snapper with Orange Thai Chile Sauce
Step 2:
Combine salt, egg whites and orange zest in large bowl; stir until completely mixed.
Step 3:
Line large roasting pan with parchment paper. Create a 1/4-inch-thick layer of the salt mixture large enough for the entire snapper to lay on. Place snapper on salt mixture. Stuff the cavity with 4 orange slices and 6 tarragon sprigs.
Step 4:
Cover the snapper with the remaining salt mixture, pressing salt mixture firmly on top of fish and sealing all edges. Bake for 35 minutes.
Step 5:
Prepare Thai Chile–Orange Sauce: Place Florida Orange Juice in saucepan; cook over medium heat and reduce to 1 cup. Remove from heat; cool. Stir in remaining ingredients; reserve sauce.
Step 6:
To serve fish, slide spatula under parchment paper and carefully transfer whole fish to serving platter. Cut through salt crust with paring knife around entire perimeter; remove top layer of salt crust.
Step 7:
Place portions of snapper on individual serving plates; garnish with remaining Florida Orange Slices and tarragon sprigs. Serve with Thai Chile–Orange Sauce.