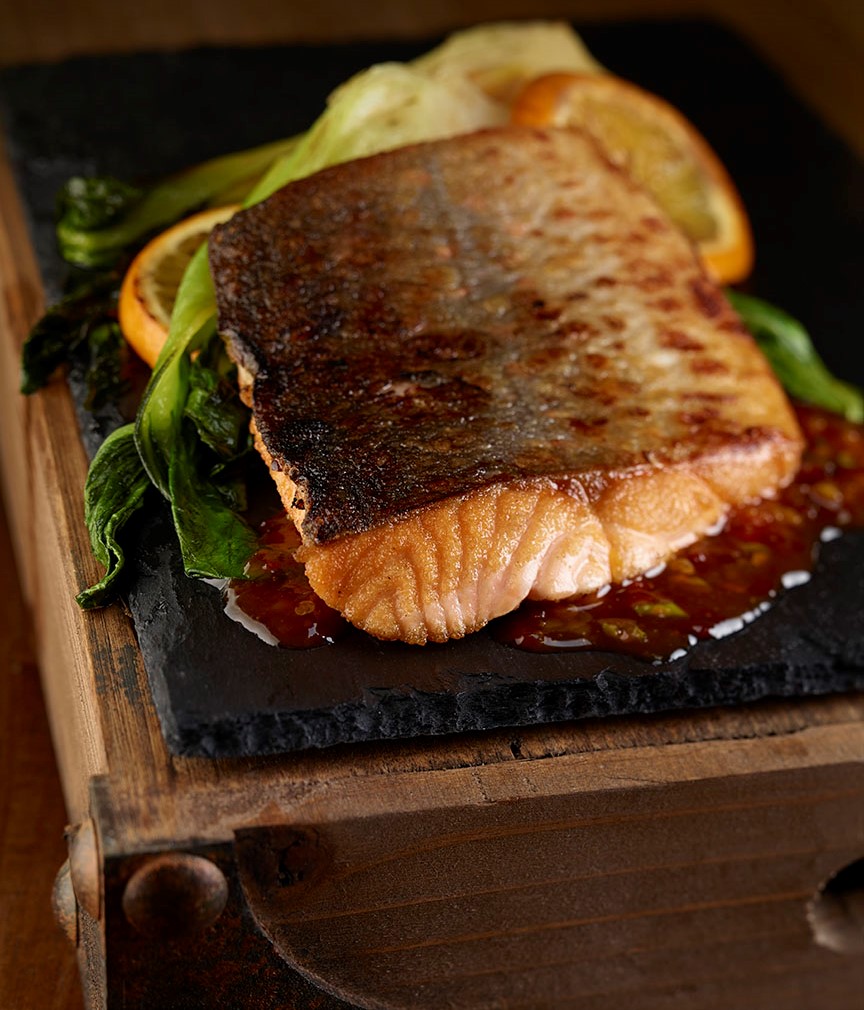 Farmed Arctic Char With Orange Sambal Glaze And Baby Bok Choy
Ingredients
1 cup (240 ml) Florida Orange Juice

1/4 cup (60 ml) Carrot juice

1/4 cup Fresh ginger, minced

1/4 cup Sambal

1/4 cup Green onion, minced

4–8 each, depending on size Baby bok choy

2 tablespoons Olive oil

2 cups Mirin

4 each Arctic char, portioned into 6-oz. pieces

Salt

Pepper
Preparation
Farmed Arctic Char With Orange Sambal Glaze And Baby Bok Choy
In a 2-quart saucepan, add the orange juice, carrot juice and 2 tablespoons minced ginger. Reduce the amount of liquid to one-third. Remove from heat and add the sambal; set aside to cool. When cool, mix in the green onion.

Slice the bok choy in half lengthwise.

In a large rondeau over medium-high heat, add 2 tablespoons olive oil. Lay the sliced side of the bok choy down in the oil. Sauté until lightly golden brown; add 2 tablespoons minced ginger and the mirin. Place a cover over the pan, reduce the heat to medium and braise until fork tender, approximately 3–4 minutes.

Remove the bok choy from the pan. Reduce the ginger and mirin until almost dry. Add the sambal mixture, turn off the heat and stir until the sauce is warm.

Season Arctic char with salt and pepper; sauté in a pan and finish in the oven to your desired temperature.

Serve with baby bok choy and orange sambal glaze.