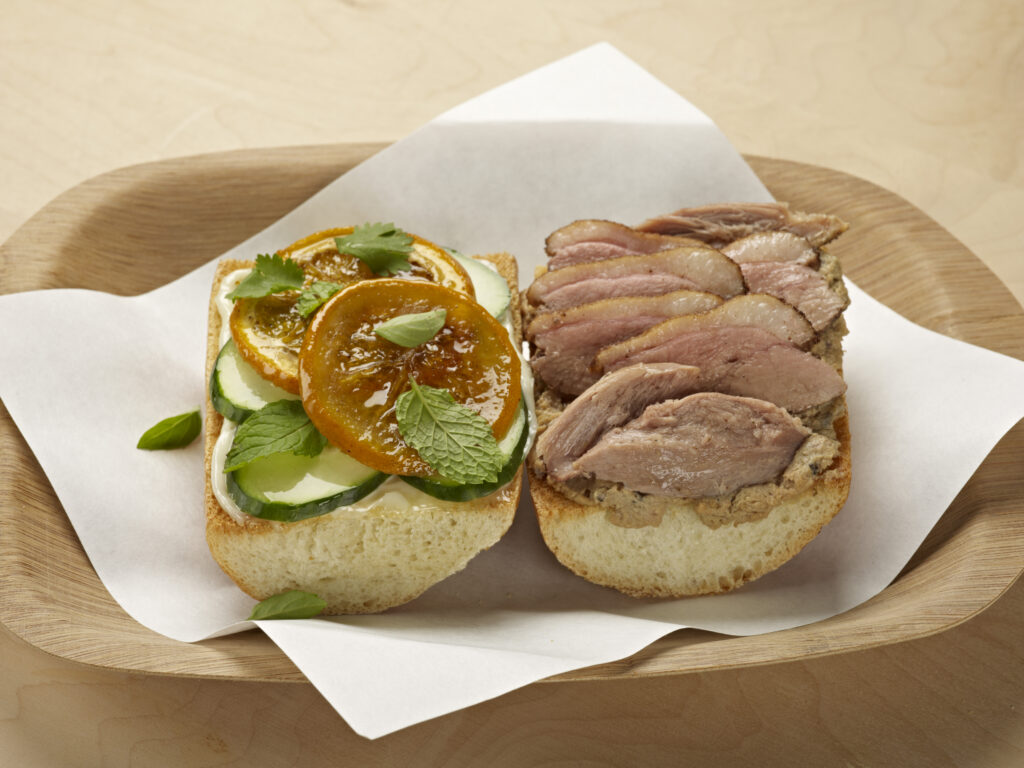 Ingredients
For Duck Pâté:*

1 pound duck liver (or chicken liver)

1 cup milk

8 tablespoons butter, divided

1 cup diced shallots

2 teaspoons minced garlic

2 bay leaves

1 teaspoon thyme

1 teaspoon salt

1/2 teaspoon freshly ground black pepper

1/4 cup (60 ml) Florida orange juice
For Roasted Duck Leg:
1/4 cup salt

1 tablespoon Florida orange zest

1 tablespoon thyme

2 teaspoons coriander

2 teaspoons cinnamon

1 teaspoon pepper

1 bay leaf

6 duck legs
For Spiced Pickled Florida Orange:
6 (1/4 -inch thick) slices Florida orange

2-1/2 cups sugar

2 cups vinegar

1 cinnamon stick

1 bay leaf

1/2 teaspoon cloves
For Duck Breasts:
2 duck breasts

1 tablespoon Chinese five-spice powder

Salt to taste

Pepper to taste
For Assembly:
3 baguettes

1/2 cup mayonnaise

1 cup sliced cucumber

1/2 cup sliced hot chiles

1/2 cup small cilantro leaves

1/2 cup small basil leaves

1/2 cup small mint leaves
Preparation
Duck Banh Mi Sandwiches
Prepare Duck Pâté. Place duck liver in shallow dish with milk. Cover and refrigerate for 2 hours. Drain duck liver; discard milk and pat dry with paper towels. Heat 4 tablespoons butter in large skillet over medium-high heat. Add shallots and garlic; cook for 30 seconds. Add duck liver, bay leaf, thyme, salt and pepper. Cook until liver is cooked through, but still slightly pink on the inside. Add orange juice and continue cooking until liquid has evaporated; remove from heat and cool. Remove bay leaves. Purée liver mixture in food processor until smooth. Add remaining 4 tablespoons butter and adjust seasoning, if necessary. Cover and refrigerate for at least 3 to 4 hours.

Prepare Roasted Duck Leg. Place salt, orange zest, thyme coriander, cinnamon, pepper and bay leaf in spice grinder; grind into coarse mixture. Rub duck legs on all sides with spice mixture. Roast duck legs in a 300° F. oven for about 2 1/2 hours or until thoroughly cooked and meat falls from bone. Cool meat and shred with two forks; reserve.

Prepare Spiced Pickled Florida Orange. Place orange slices in a medium saucepan and cover with cold water. Bring to a simmer and cook for 45 minutes; drain water. Add sugar, vinegar, cinnamon stick, bay leaf and cloves. Cook for an additional 30 to 45 minutes, until oranges turn translucent. Remove from heat; cool and reserve.

Prepare Duck Breasts. Season duck breasts with Chinese five-spice powder, salt and pepper. Sear duck breasts in skillet skin-side down until skin becomes brown and crispy. Turn dusk breasts over and cook until medium rare. Remove from heat; cool and carve into thin slices. Reserve.

To assemble, preheat oven to 350 degrees. Split baguettes and toast lightly. Spread top half of baguettes with Duck Pâté; spread bottom half of baguettes with mayonnaise. Layer sliced duck breast on bottom of baguettes. Top with shredded roasted duck leg meat, Spiced Pickled Florida Oranges, and sliced cucumbers. Sprinkle with chiles, cilantro, basil and mint. Place baguette tops over sandwiches; serve immediately.

*Can substitute prepared duck or liver pâté.