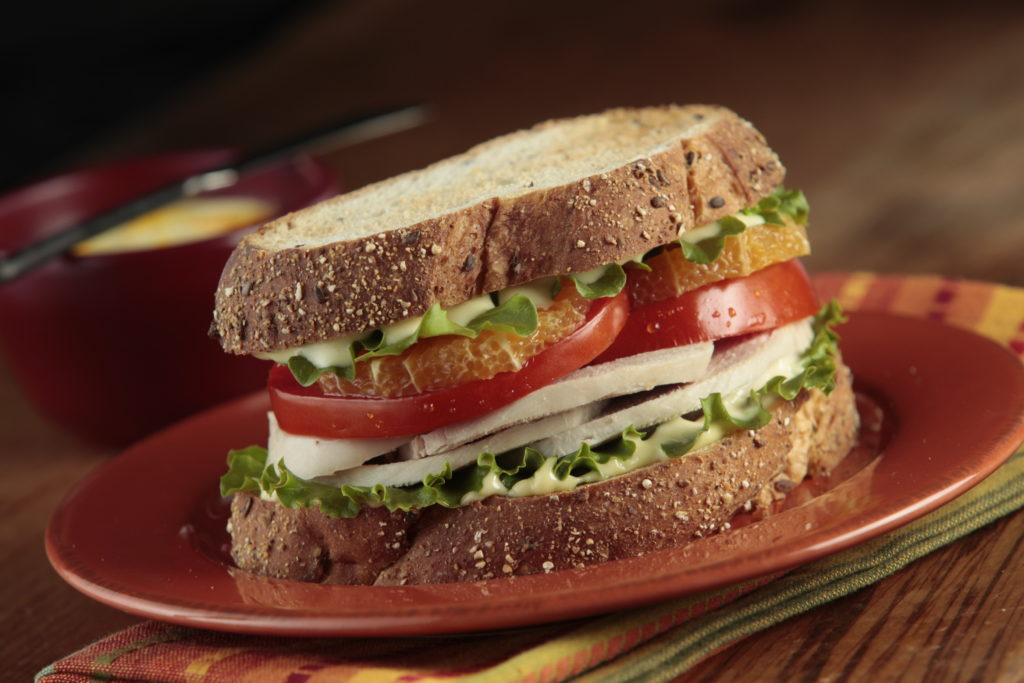 Carved Turkey Sandwiches With Orange Olive Oil Mayo
Ingredients
2 slices whole grain bread

2 tablespoons prepared Orange Olive Oil Mayo (see below)

1 lettuce leaf

3 thin tomato slices

Salt and pepper to taste

3 thin Florida orange slices with the rind removed

4 slices (approximately 4 ounces) skinless, roasted turkey (see below)
Orange Olive Oil Mayo

¼ cup pasteurized egg substitute

¼ cup 100% Florida orange juice

1 tablespoon Dijon mustard

Salt to taste

¾ cup canola oil

¾ cup good quality extra virgin olive oil
Roast Turkey Breast
¼ cup pasteurized egg substitute

¼ cup 100% Florida orange juice

1 tablespoon Dijon mustard

Salt to taste

¾ cup canola oil

¾ cup good quality extra virgin olive oil
Preparation
Carved Turkey Sandwiches With Orange Olive Oil Mayo
Preheat oven to 350° F. Combine poultry seasoning, salt, paprika and pepper in a small bowl. Rub turkey breast with 1 tablespoon olive oil; coat with seasoning mixture. Combine remaining 1 tablespoon olive oil and orange juice in a small bowl; set aside. Place turkey breast on rack in roasting pan and roast until internal temperature reaches 165° F, about 60 to 75 minutes. Baste turkey with orange juice mixture 2 to 3 times during roasting. Remove turkey breast from oven; let rest. Remove bone, skin, and any visible fat before carving turkey breast into slices.
Spread both slices of bread with Orange Olive Oil Mayo. Top one slice of bread with lettuce and tomato; sprinkle with salt and pepper to taste. Place orange slices on top of tomato slices. Place turkey on top orange slices and top with the second slice of bread. Serve immediately.
Nutrition Facts
Amount per serving
Calories
*The % Daily Value tells you how much a nutrient in a serving of food contributes to a daily diet. 2000 calories a day is used for general nutrition advice.