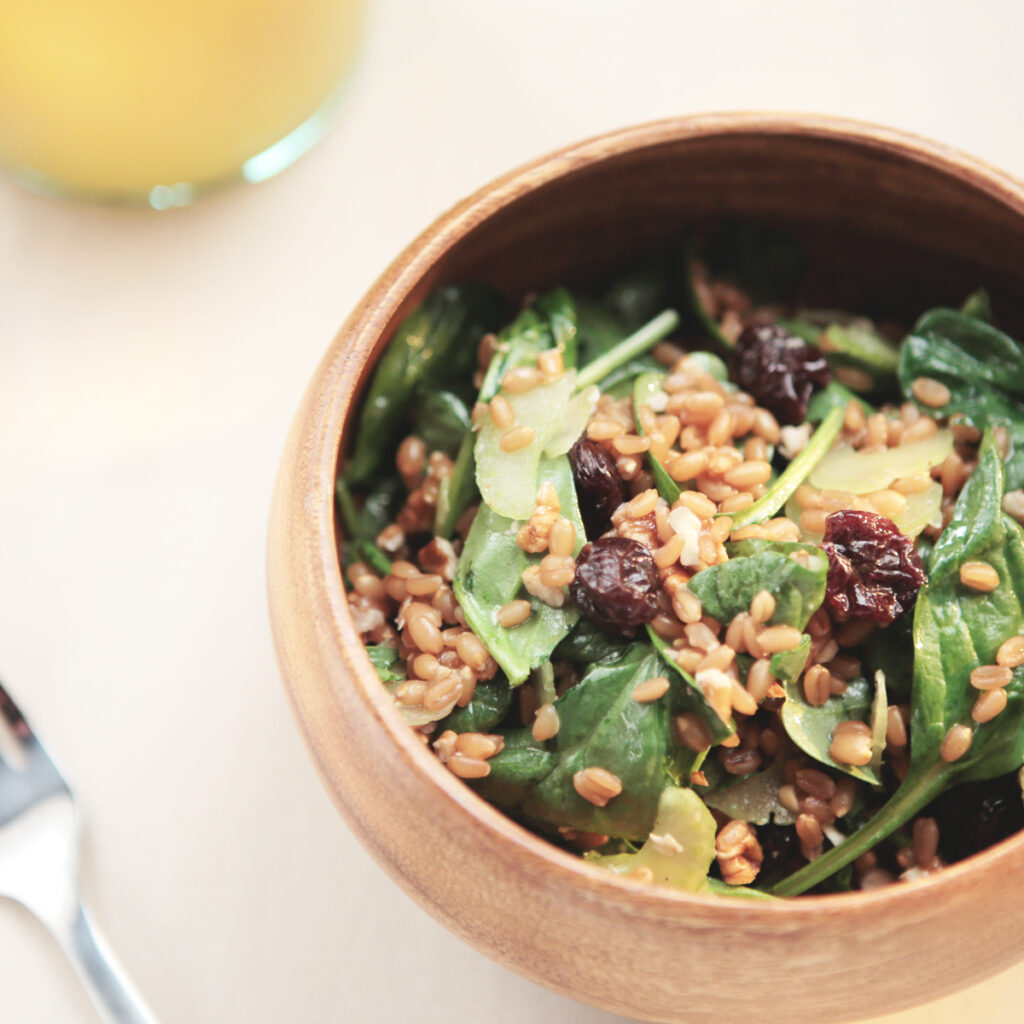 Wheatberry Spinach Salad with Florida OJ Dressing
Add a new salad into your weekly meal rotation with our Wheatberry Spinach Salad with Florida OJ Dressing. Both wheatberries and Florida Orange Juice provide plenty of fiber, which may lower cholesterol levels. Our salad is perfect for a filling and nutritious lunch or dinner you and your family will love.
Ingredients
½ cup (120 ml) Florida Orange Juice
1 cup wheatberries
1 tsp. kosher salt, plus extra as desired
2 tbsp. red wine vinegar
2 tbsp. olive oil
2 tsp. Dijon mustard
1 garlic clove, grated
½ tsp. ground cardamom
½ cup coarsely chopped pecans
½ cup dried cherries
½ cup sliced celery
2 cups baby spinach
Preparation
1. Place the wheatberries and salt into a large saucepan and cover with water by one inch.
2. Set over high heat and bring to a boil.
3. Decrease the heat to low, cover and cook for 45 to 60 minutes or until the wheatberries are toothsome, yet tender, but not mushy.
4. Drain and immediately rinse under cold water until cool. Set aside.
5. In the meantime, combine the Florida Orange Juice, vinegar, olive oil, mustard, garlic, and cardamom in a lidded glass jar and shake well to combine.
6. Place the wheatberries, pecans, cherries, celery and spinach in a large mixing bowl.
7. Add half of the dressing and toss to combine.
8. Taste and season with additional salt as desired.
9. Add additional dressing if desired or refrigerate for another use.
Helpful Tip: Pour our OJ Dressing over any of your favorite salads or vegetable side dishes.