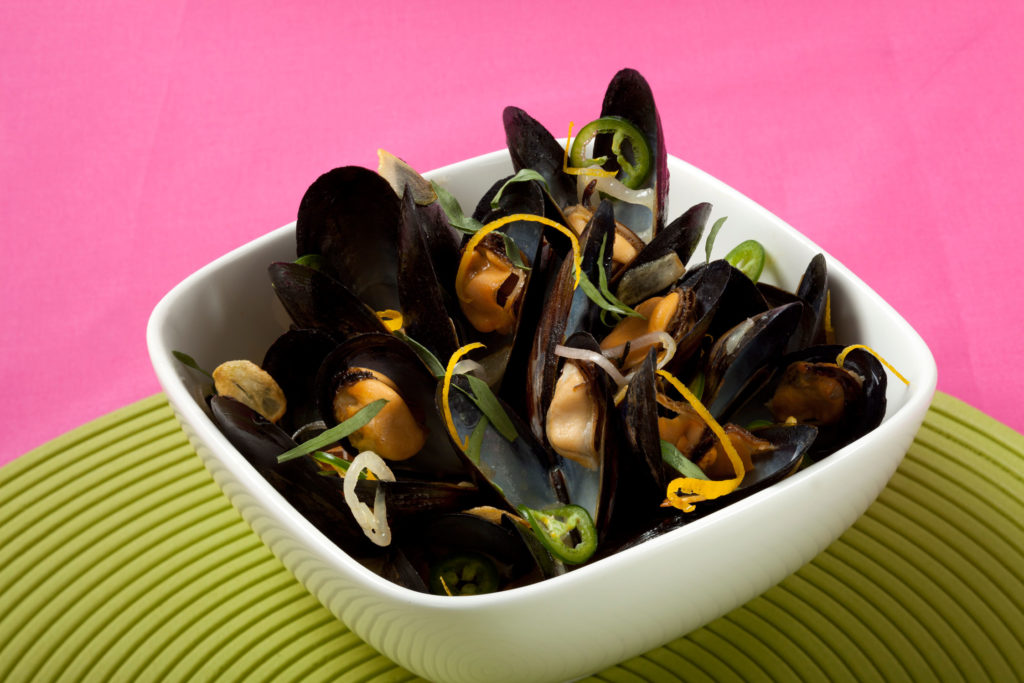 Orange and Beer Steamed Mussels
Ingredients
2 quarts olive oil

2 russet potatoes, peeled, cut into ¼-inch julienne

Salt to taste

2 tablespoons olive oil

2 tablespoons shallots, minced

1 tablespoon garlic, minced

1 teaspoon jalapeño pepper, seeded

3 pounds mussels, cleaned

½ cup (120 ml) Florida orange juice

½ cup tomato, diced into ½-inch cubes

½ cup (120 ml) Pilsner beer

2 tablespoons lemon juice

Salt and pepper to taste

2 tablespoons butter

1 tablespoon fresh tarragon, chopped
Preparation
Orange and Beer Steamed Mussels
Pour olive oil into large 6-quart stockpot and heat over medium-low heat until it reaches 375ºF. Add potatoes and cook until golden brown and crispy. Remove from oil with strainer; drain on paper towels. Season with salt to taste.
Preheat large skillet over medium-high heat. Add olive oil; sauté shallots, garlic, shallots and jalapeño until aromatic. Add mussels, Florida orange juice, tomato, beer and lemon juice. Season with salt and pepper to taste. Cover skillet; cook until mussels open fully.
Remove from heat; discard any unopened mussels. Add butter and tarragon to mussels; toss until butter is melted. Serve mussels in large bowl with Olive Oil Frites on the side.