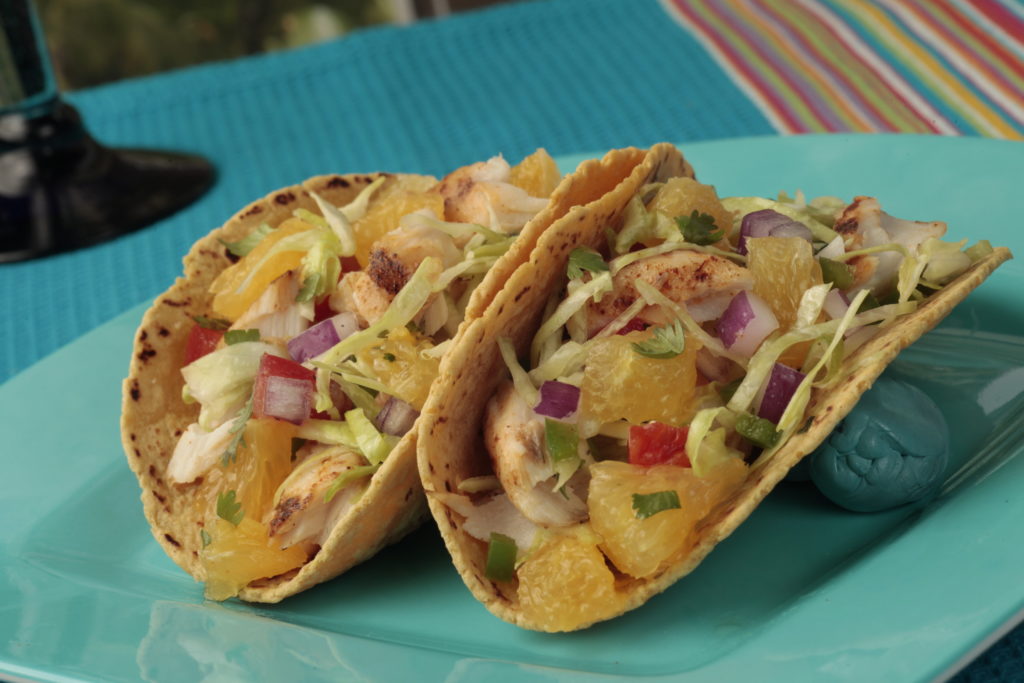 Grilled Fish Tacos With Orange Cilantro Slaw
Ingredients
For the Fish:
1 ½ pounds Mahi-Mahi or other firm white fish

½ cup canola oil

1 cup Florida orange juice

1 teaspoon dried oregano

¼ teaspoon cayenne pepper

1 teaspoon finely minced garlic

Salt and pepper to taste
For the Slaw:
¼ cup chopped cilantro

4 cup finely shredded cabbage

1 cup diced oranges

½ cup diced red onion

½ cup diced tomato

½ cup diced red bell pepper

1 small jalapeno, seeded and minced

⅓ cup marinade (above)

Salt and pepper to taste
For the Tacos:

24 corn tortillas

Slaw mixture (above)

Plain Greek yogurt for garnish, optional
Preparation
Grilled Fish Tacos With Orange Cilantro Slaw
For the Fish:
In a large bowl, whisk together oil, orange juice, oregano, cayenne, garlic, salt and pepper. Reserve ⅓ cup of the marinade for the slaw. Put fish in a zip top bag and pour half the marinade over the fish. Seal bag and marinate at room temperature for 15 minutes.
For the Slaw:
In a large bowl, add marinade, cilantro, cabbage, oranges, red onion, tomato, red bell pepper, jalapeno, salt and pepper. Toss well to coat and set aside to allow flavors to blend.
For the Tacos:
Heat a grill or grill pan to medium-high heat. Remove fish from marinade and discard marinade; grill about 5 minutes or just until done. Do not overcook fish. Remove fish from grill and flake with a fork. Place tortillas on the grill for 20 seconds to heat them up. For each taco, place fish, into 2 tortillas and top with slaw. Garnish with Greek yogurt if desired.
Nutrition Facts
Amount per serving
Calories
172
% Daily Value*

Total Carbohydrate

15.5g

6%
*The % Daily Value tells you how much a nutrient in a serving of food contributes to a daily diet. 2000 calories a day is used for general nutrition advice.