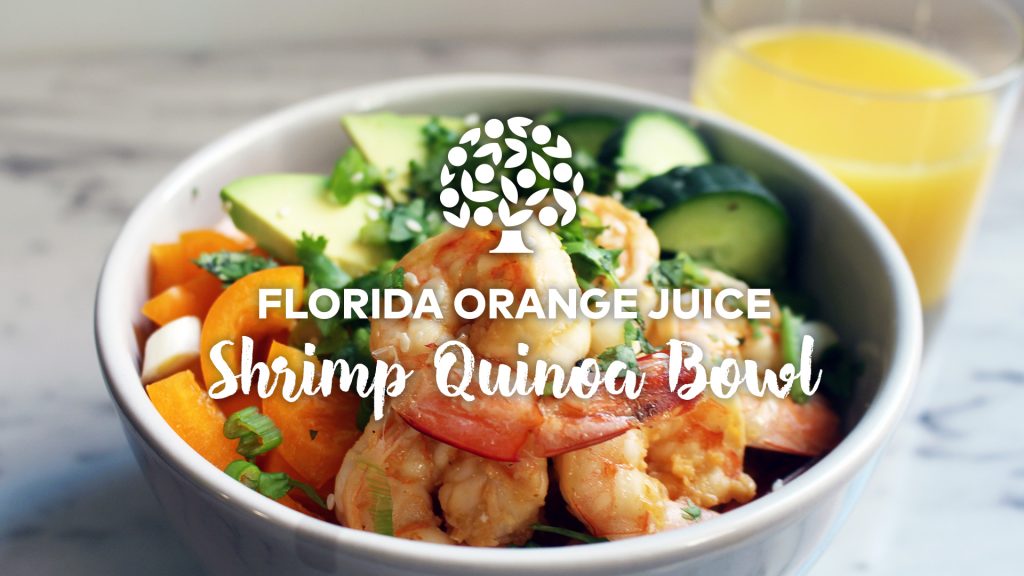 Florida Orange Juice Shrimp Quinoa Bowl
A perfect mix of textures and tangy, spicy, and sweet flavors, the Florida Orange Juice Shrimp Quinoa Bowl packs a powerful nutritious punch. The vitamin B6 in the Florida OJ and the vitamin B12 in the shrimp work together to reduce inflammation. The powerhouse combination decreases the risk of heart disease and stroke. Additionally, vitamin E found in quinoa enhances the absorption of the vitamin A found in Florida Orange Juice. Together these vitamins lead to increased antioxidant capabilities, support a healthier gut, and work to decrease inflammation and increase brain health and immunity.
Ingredients
1 cup (240ml) Florida Orange Juice
2 cups water
1 cup quinoa
1 tbsp. hot sauce
1 tbsp. honey
1 tbsp. soy sauce
6 tbsp. vegetable oil, divided
2 tbsp. lime juice
1 tbsp. white miso
1 ½ lbs. shrimp, peeled and deveined
¼ tsp. kosher salt
⅛ tsp. ground black pepper
1 bell pepper, diced
1 English cucumber, sliced into half moons
3 scallions, sliced
1 avocado, sliced
1 tsp. sesame seeds
2 tbsp. cilantro, chopped
Preparation
1. Place water in a pot and bring to a boil.
2. Add quinoa, reduce to a simmer, cover, and cook for 15 minutes. Fluff with a fork.
3. While quinoa is cooking, place Florida Orange Juice, hot sauce, honey, soy sauce, four tablespoons vegetable oil, lime juice, and miso in a bowl and whisk together. Remove half and set aside
4. Add shrimp to remaining half and marinate for 15 minutes.
5. Heat a large skillet over medium-high heat and add two tablespoons oil.
6. Season shrimp with salt and pepper then add shrimp to wok and sauté, cooking approximately two minutes per side until pink and cooked through.
7. Place ½ cup quinoa in a bowl and top with pepper, cucumber, scallions, avocado and shrimp.
8. Drizzle with dressing that was set aside and garnish with sesame seeds and cilantro.