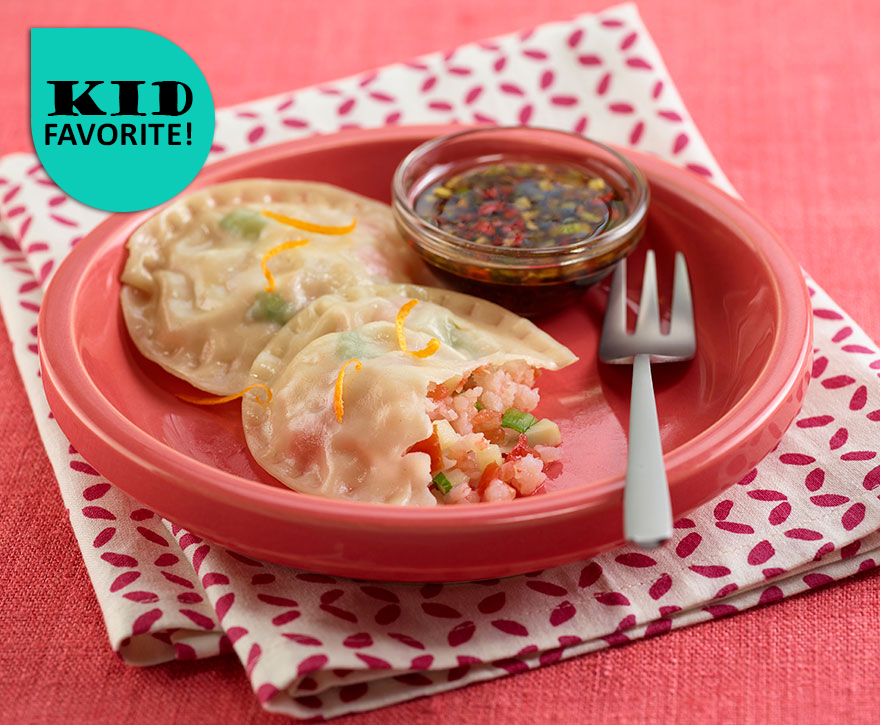 Florida OJ Homemade Shrimp Ravioli
Ingredients
1 cup (240 ml) Florida Orange Juice

9 oz. shrimp, 16-20 count, peeled and deveined

¼ cup green onion, chopped, divided

1 cup parsnip, blanched and chopped

1 cup plum tomatoes, chopped

1 wonton wrapper pack (16 pieces)
Preparation
Florida OJ Homemade Shrimp Ravioli
Place raw shrimp in a bowl. Add the Florida Orange Juice and half of the green onion; cover with plastic wrap. Refrigerate for 30 minutes.

In another bowl, combine the cooked parsnip, chopped tomatoes and remaining green onion; reserve.

Preheat a large sauté pan. Remove the shrimp from the marinade; discard marinade. Sauté shrimp until cooked thoroughly (3–4 minutes); cool and chop roughly.

Combine chopped shrimp with the parsnip mixture.

Lay out 8 wonton wrappers. Moisten the four sides of the wonton wrappers with a little water.

Place a spoonful of the shrimp/parsnip mixture in the middle of the wonton and cover with another wonton, pressing firmly around the moistened edges to seal.

When all raviolis are made, place into boiling water to cook for 2–3 minutes, until the wonton is soft. Serve immediately.