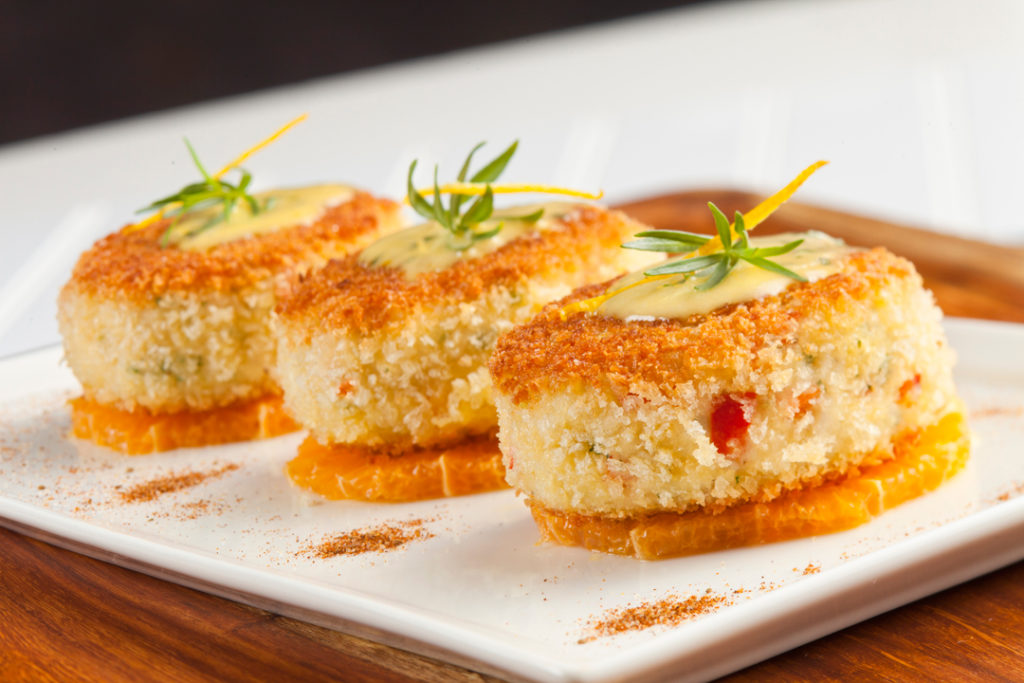 Florida OJ Crab Cakes with Citrus Hollandaise Sauce
Ingredients
Crab Cakes:
1 cup Florida Orange Juice

Florida Orange Zest, for garnish

2 tbsp. butter

½ cup red bell pepper, finely diced

½ cup yellow onion, minced

½ cup celery, minced

1 ½ lb. Maryland blue lump crab meat, picked

¾ cup light I mayonnaise

1 egg, lightly beaten

2 tsp. Dijon mustard

1 ½ tsp. Old Bay Seasoning®

1 tsp. Worcestershire sauce

2 ¼ cups panko breadcrumbs, divided

6 tbsp. olive oil, divided

Fresh tarragon, for garnish
Florida Orange–Tarragon Hollandaise:
1 cup Florida Orange Juice

2 egg yolks

1 tbsp. tarragon

1 tbsp. lemon juice

1 tsp. Original TABASCO® brand Pepper Sauce

2 tbsp. butter, melted

Salt to taste

Pepper
Preparation
Florida OJ Crab Cakes with Citrus Hollandaise Sauce
For Crab Cakes:
Heat medium skillet over medium heat; add butter and heat until melted. Add red peppers, onions and celery; cook until tender and onions are translucent. Add Florida Orange; simmer until original volume is reduced by two-thirds. Remove from heat; place in mixing bowl and refrigerate until cool. Add crab meat, mayonnaise, egg, mustard, Old Bay Seasoning®, Worcestershire sauce and 1 ¼ cups panko breadcrumbs. Mix gently until incorporated, being careful not to overmix or break up crab meat. Place mixture in refrigerator until well chilled. Form into 6 patties and lightly coat with remaining 1 cup panko breadcrumbs.
For Orange-Tarragon Hollandaise:
Place Florida Orange Juice in medium saucepan and bring to a simmer; cook over medium heat until reduced to one-half original volume. Remove from heat; refrigerate until chilled. Place Florida Orange Juice reduction, egg yolks, tarragon, lemon juice and Tabasco® in food processor; process ingredients while slowly adding melted butter in a steady stream until fully incorporated. Season with salt and pepper to taste. Reserve; keep warm.
To Cook Crab Cakes:
Heat large nonstick sauté pan over medium heat. Add 3 tablespoons olive oil; cook 3 crab cakes on both sides until golden brown. Remove crab cakes; place on baking sheet in warm oven. Repeat with remaining 3 tbsp. olive oil and crab cakes. Serve crab cakes with Florida Orange–Tarragon Hollandaise spooned on top. Garnish with orange zest and fresh tarragon
Nutrition Facts
Amount per serving
Calories
441
% Daily Value*

Total Carbohydrate

33.8g

12%
*The % Daily Value tells you how much a nutrient in a serving of food contributes to a daily diet. 2000 calories a day is used for general nutrition advice.