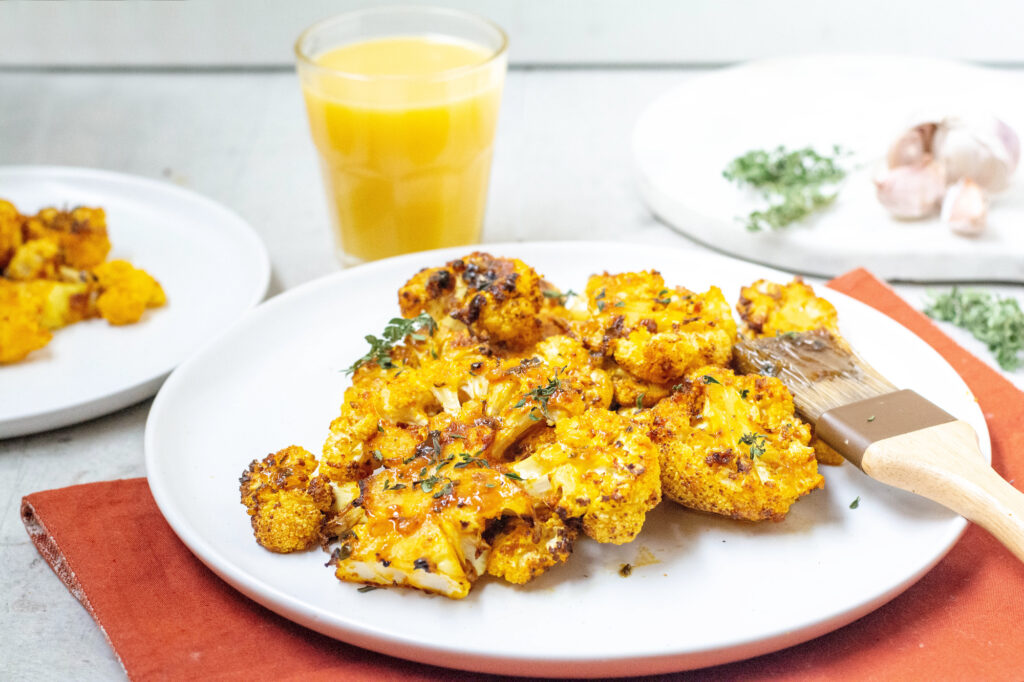 Air Fryer Cauliflower Steaks with Orange Herb Sauce 
Makes 4 to 6 servings
Ingredients
For the Orange Herb Sauce
1 cup (250ml) Florida Orange Juice 
2 teaspoons oil or butter 
2 teaspoons minced garlic 
2 teaspoons finely chopped thyme 
2 tablespoons honey 
For the Cauliflower
1 medium head of cauliflower 
2 teaspoons garlic powder 
2 teaspoons paprika 
1 teaspoon turmeric 
1/2 teaspoon salt 
1/4 teaspoon ground pepper 
2 tablespoons oil or melted butter 
Preparation
| Prep Time | Cook Time | Total Time |
| --- | --- | --- |
| 10 minutes | 30 minutes | 40 minutes |
Heat oil in small saucepan over medium heat. Add garlic and thyme, cook until fragrant.
Add orange juice and honey. Bring to a boil and cook on high for 5 to 10 minutes or until reduced and syrupy. Remove from heat and set aside.
Preheat air fryer to 375ºF.
Remove leaves from base of cauliflower, and trim bottom to sit flat on a cutting board. Do not remove core. Slice cauliflower in half, and then cut each half into 3/4-inch slices. Place cauliflower steaks and any small florets that may have broken off on large plate or baking sheet.
Combine garlic powder, paprika, turmeric, salt, and pepper in a small bowl. Drizzle cauliflower with oil on both sides, and season generously with spice mixture.
Working in batches, arrange cauliflower in a single layer in air fryer.
Cook for 3 to 4 minutes, brush orange herb sauce over cauliflower, and flip, cooking for an additional 3 to 4 minutes.
Brush with more sauce. Cauliflower should be tender and lightly golden. Serve warm.