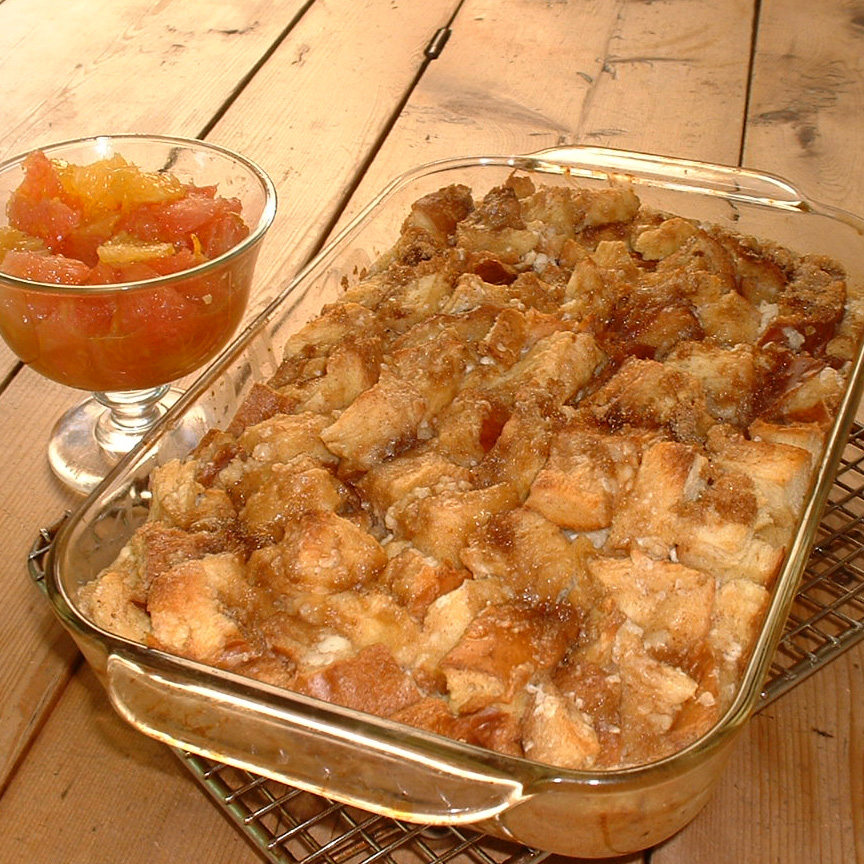 Grapefruit French Toast Casserole With Sweet 'N' Citrus Salsa
Ingredients
For Casserole:

About 8 thick slices of challah bread, cubed

110 g spreadable cream cheese at room temperature

250 ml milk

125 ml Florida Grapefruit Juice

4 large eggs

2 teaspoons vanilla

1 teaspoon cinnamon

Pinch of salt

50 g packed brown sugar

60 ml maple syrup
For Salsa:

1 tablespoon grated Florida grapefruit rind

1 tablespoon grated orange rind

2 Florida grapefruit

2 Florida oranges

3 tablespoons packed brown sugar

2 tablespoons granulated sugar

Pinch of cinnamon

Maple syrup

Icing sugar
Preparation
Grapefruit French Toast Casserole With Sweet 'N' Citrus Salsa
To prepare casserole, place bread in greased 28 x 18-centimetre (2.5 litre) baking dish.Using an electric mixer, beat cream cheese until softened.Beat in milk in steady drizzle, then grapefruit juice.Whisk in eggs, vanilla, cinnamon and salt until combined.Pour over bread, pressing down to soak bread evenly.Sprinkle brown sugar and drizzle maple syrup over top.Cover and refrigerate for at least 1 hour or overnight.
Meanwhile, to prepare salsa, grate rind from grapefruit and oranges.Cut peel and pith from grapefruit and oranges.With small sharp knife, cut grapefruit and orange sections away from membrane; cut each section in half crosswise.Place in serving bowl; sprinkle with grapefruit and orange rinds, brown sugar, granulated sugar and cinnamon (if using).Refrigerate for up to 1 hour.Stir together gently just before serving.
Bake casserole in centre of oven at 180 degrees Celsius for 35 to 45 minutes or until it is golden brown and liquid is completely set.Let stand on rack for 5 minutes.Serve with salsa, additional maple syrup and a sprinkle of icing sugar.