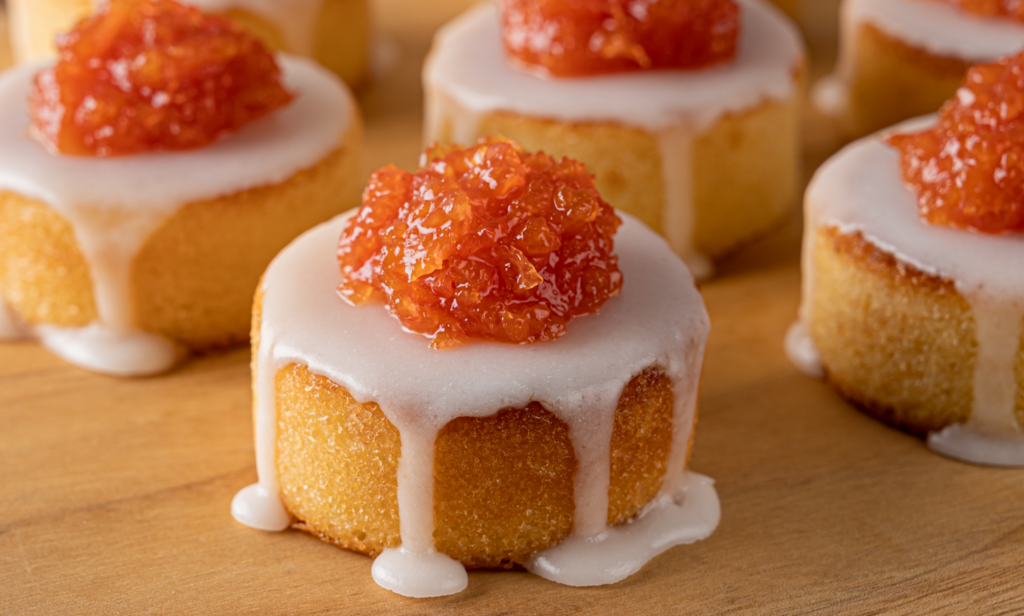 Florida Grapefruit Almond Teacakes
Cake Ingredients
60g Florida Grapefruit Juice
25g Florida Grapefruit zest
190g butter
190g sugar
240g egg
190g almond powder
45g soft flour
1g baking powder
Icing Glaze Ingredients
52g Florida Grapefruit Juice
280g powdered sugar
Compote Ingredients
3 Florida Grapefruit (630g)
210g sugar
10g lemon juice
Preparation
Slice a washed Florida Grapefruit peel and freeze it. Grind the frozen peel using a food processor. (Florida Grapefruit zest)
2. Add the Florida Grapefruit zest and sugar to the bowl containing room temperature butter. Combine at medium speed to make cream.
3. Add eggs in three lots, beating at medium-low speed in between until incorporated.
4. Combine the sifted almond powder, soft flour, and baking powder.
5. Add the room temperature Florida Grapefruit Juice in two times and whisk them at low speed.
6. Fill the piping bag with the batter and pipe it into the silicon pans one by, each for 55g.
7. Preheat the deck oven to 180°C for top and 160°C for bottom. Put the pans into the oven and bake for 20 minutes. (Bake for 18 minutes when using a convection oven preheated to 170°C.)
8. Remove from the oven and lightly hit the pan. Remove the cake by turning the pan and parchment paper. Let it cool.
9. To make the icing, combine all of the icing ingredients until soft using a spatula.
10. Transfer into piping bag and pipe onto the Florida Grapefruit almond cake in single layer.
11. To make the compote, slice a washed Florida Grapefruit peel and freeze it. Grind the frozen peel using a food processor. (Florida Grapefruit zest)
12. Remove the white stuff around the inside peel of a Florida Grapefruit. Slice the Florida Grapefruit's pulp into square-shaped cube.
13. Add the Florida Grapefruit peel, pulp, and sugar to a pot and heat it while stirring well.
14. Remove from heat and add the lemon juice.
15. Pour it into the tray. Wrap the tray using a plastic wrap. Cool it in the freezer for 10 minutes and store in the fridge.
16. With a spoon, top each of the Florida Grapefruit almond teacake with 15g of compote.