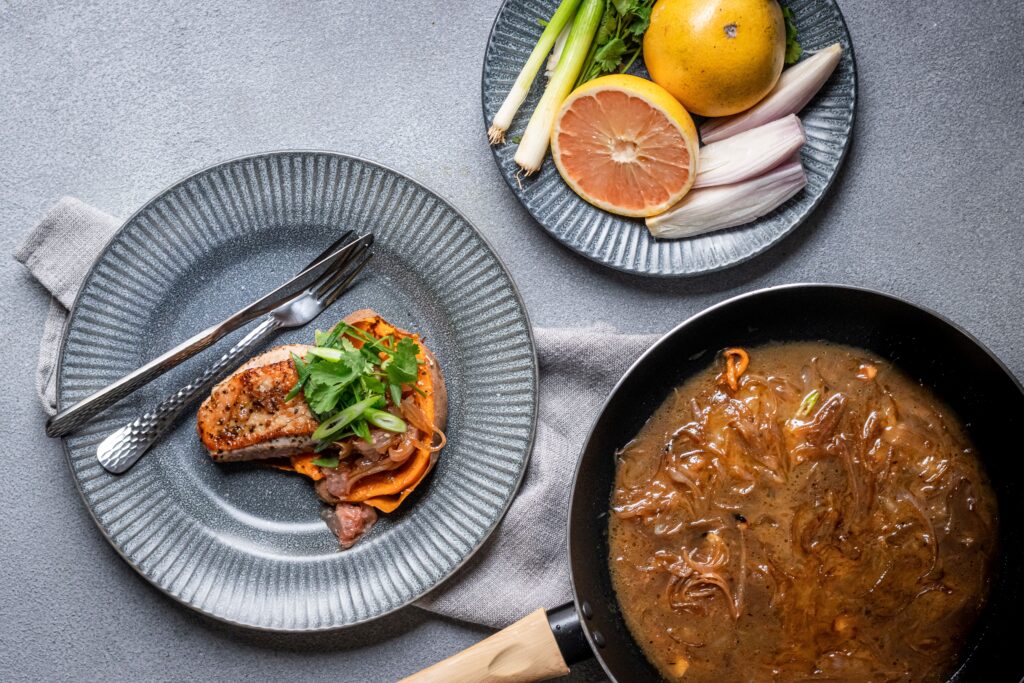 Duck and Florida Grapefruit
Ingredients
2 Florida Grapefruit
2 duck breasts
2 tbsp olive oil
Salt and pepper
3 shallots
100ml dry gin
200ml beef or chicken stock
30g butter
2 baked sweet potatoes
1 tbsp cilantro(chopped)
3 spring onions (chopped)
Preparation
1. Place the sweet potatoes onto a baking tray and cook in the oven for 40 minutes or until soft in the middle.
2. Using a sharp knife, score the skin side of the duck to create a crisscross; this will help crisp the skin up during the cooking process.
3. Drizzle with a little olive oil and season with salt, pepper, and Florida Grapefruit zest.
4. Place the duck skin side down into a cold frying pan; then, cook on a medium heat.
5. Meanwhile, slice the shallots and cut the segments out of the Florida Grapefruit.
6. Heat a medium frying pan; add the shallots with a splash of olive oil and a sprinkle of salt and pepper.
7. Cook the shallots for 5 minutes until soft; then, add the Florida Grapefruit segments.
8. Pour in the gin and boil away the alcohol for 1 minute.
9. Add the stock and simmer gently for 5 minutes.
10. Finish the sauce by adding the butter and stirring together.
11. Cook the duck to your liking – 55c core temp for medium rare, 60c for medium, and 70c for well done.
12. It's important that you rest the duck for 5 minutes on a plate before serving.
13. Cut the sweet potatoes open and sit the duck on top.
14. Spoon over the shallot and Florida Grapefruit sauce.
15. Finish the dish by adding some chopped fresh coriander and spring onion.