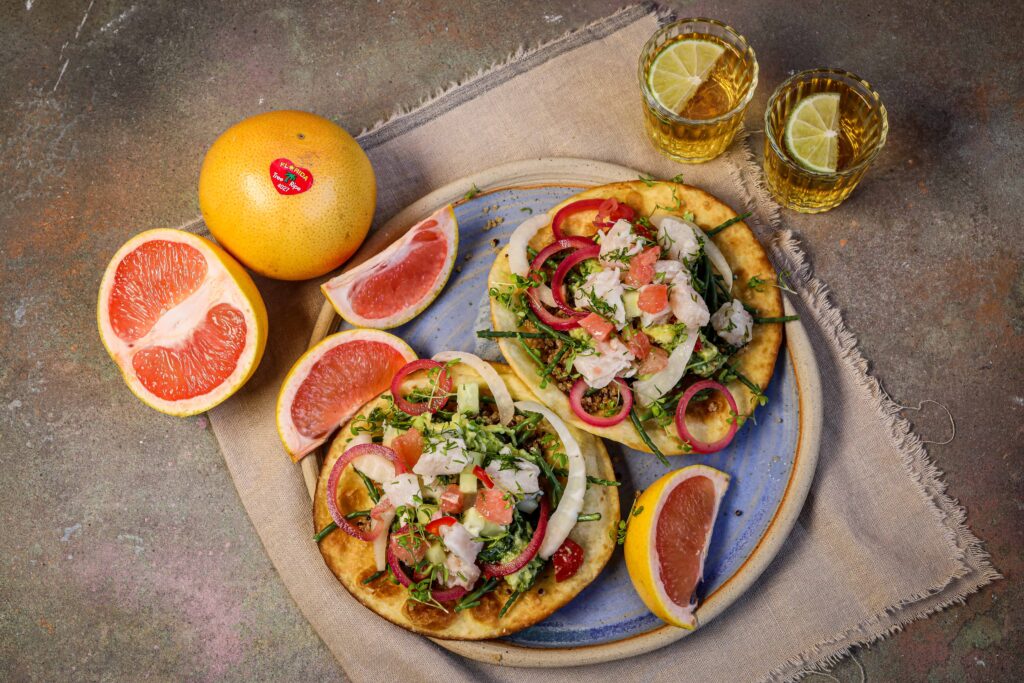 Cornish Hake and Florida Grapefruit Ceviche Tostada
If you love the flavour of Latin American cuisine, this dish is one to add to your list.
Ceviche Ingredients
2 Florida Grapefruit
200g Cornish Hake, diced
1 tbsp chopped dill
½ cucumber, peeled, deseeded and finely diced
1 red chilli, deseeded and finely sliced
Pinch of sea salt
Tostada Ingredients
2 small tortillas
Vegetable oil for frying
2 tbsp cooked quinoa
Handful of samphire (if available)
Pickled red onion and fennel shavings
Preparation
1. Start by preparing your Florida Grapefruit. Juice one and then finely dice the flesh of the other.
2. Add your grapefruit to a bowl with diced fish, chilli, cucumber and dill. Gently mix with a spoon and season with a generous pinch of sea salt. Leave to cure in the fridge for 45-60 mins.
3. Fry your tortillas in a shallow pan until golden and crispy. Then build your tostada with a spoonful of quinoa, handful of samphire, pickles and large spoonful of delicately cured ceviche.
4. Garnish with a few wedges of Florida Grapefruit and serve.