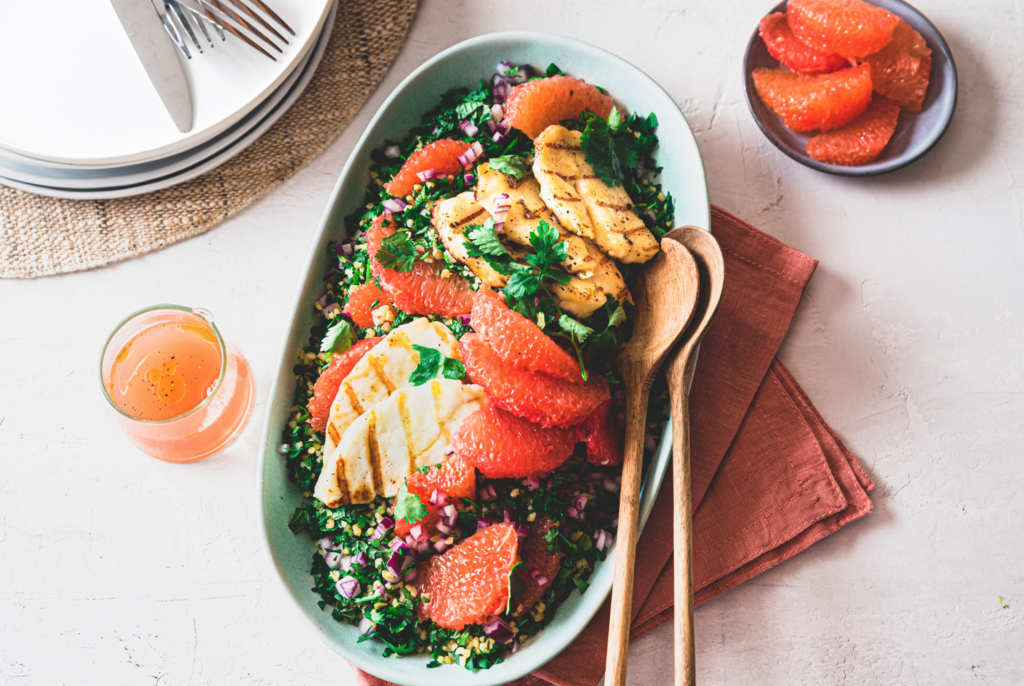 Florida Grapefruit Tabouleh
Ingredients
2 pink Florida grapefruits
1 cup bulgur
1½ cups halloumi
1 teaspoon of cinnamon
1 red onion
2 large bunches of fresh flat-leaf parsley
1 bunch of fresh coriander
1 bunch of fresh mint
1 teaspoon of honey or maple syrup
Olive oil
Salt and pepper
Preparation
Peel and cut your grapefruit into segments. Squeeze the rest of the grapefruits and reserve the juice.
In a large saucepan, heat a drizzle of olive oil and pour in the bulgur. Leave to brown for a minute while stirring. Salt and pepper, then add the cinnamon.
Pour twice the volume of bulgur in water. Cover your mixture and let it cook over low heat until the water is completely absorbed. Then let it cool.
Meanwhile, wash the herbs and dry them carefully before chopping them finely.
Peel and finely slice the red onion. In a salad bowl, mix the herbs, cooled bulgur and red onion. In a pan, heat a drizzle of olive oil, then cut the halloumi into slices and grill them on each side.
For the vinaigrette, mix the Florida Grapefruit juice with two tablespoons of olive oil, honey, as well as salt and pepper. Season the tabbouleh with the vinaigrette, add the grapefruit segments then arrange everything on a dish. Add the grilled halloumi pieces on top.
Refreshing and friendly, this revisited Lebanese specialty is perfect for a light and gourmet meal! Tip: Grill the halloumi at the last minute to keep the cheese melted.