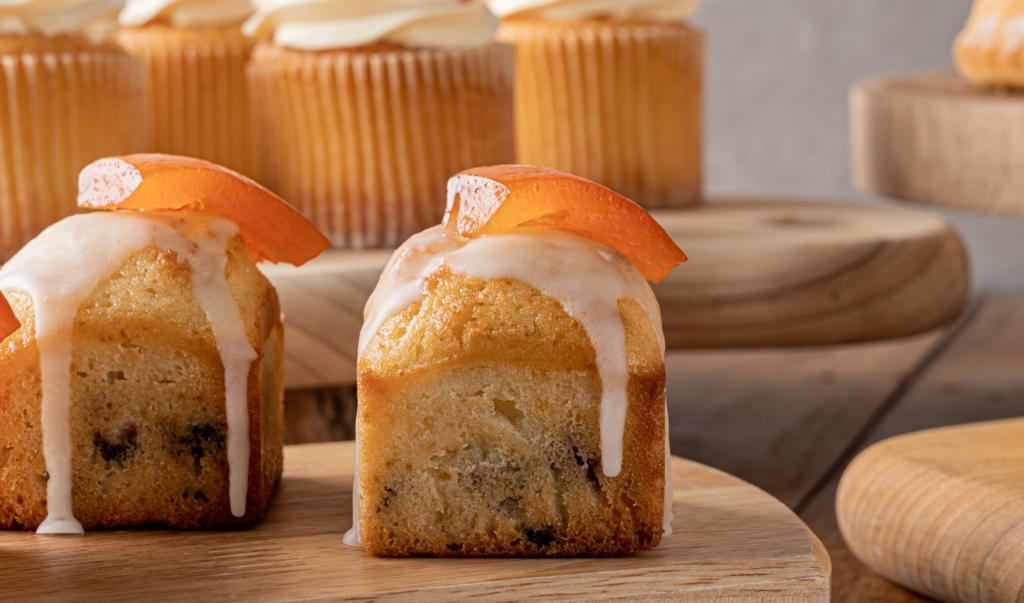 Florida Grapefruit Teacakes
Ingredients
20g Florida Grapefruit zest
70g egg
125g sugar
30g Grand Marnier
80g grape seed oil
60g Greek yogurt
125g soft flour
2g baking powder
140g blueberries, cranberries, grapes, orange peel (washed and dried)
Preparation
1. Slice a washed Florida Grapefruit peel and freeze it. Grind the frozen peel using a food processor. (Florida Grapefruit zest)
2. Beat the eggs, sugar, and Grand Marnier with a baking spatula.
3. Stir grape seed oil, Florida Grapefruit zest, and Greek yogurt in the bowl.
4. Stir in sifted soft flour and baking powder.
5. Add the blueberries, cranberries, grapes, and orange peel to the bowl and mix well.
6. Pour the mixture into prepared pan with a scoop, each for 80g.
7. Bake in the convection oven preheated to 180℃ for 20 minutes.
8. Remove pan from the oven. Hit the pan lightly and place the teacakes over the parchment paper. Set aside to cool.
9. Fill the piping bag with the Florida Grapefruit sugar icing and pipe a layer of cream over top of cake.
10. Cut the Florida Grapefruit confit in half horizontally. Top with the Florida Grapefruit.