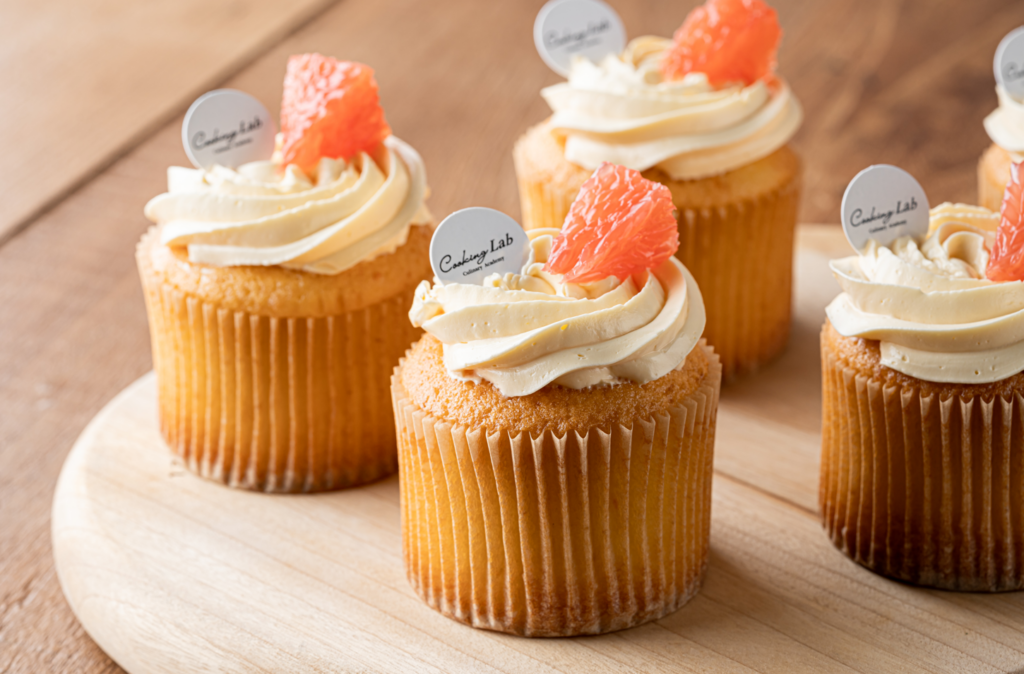 Florida Grapefruit Cream Cupcakes
Cupcake Ingredients
25g Florida Grapefruit zest
125g butter
225g sugar
180g whole egg
120g sour cream
160g soft flour
6g baking powder
1g salt
Buttercream Icing Ingredients
90g Florida Grapefruit Juice
20g Florida Grapefruit zest
60g whole egg
40g egg yolk
90g sugar
140g butter
20g Florida Grapefruit confit syrup
Preparation
1. Slice a washed Florida Grapefruit peel and freeze it. Grind the frozen peel using a food processor. (Florida Grapefruit zest)
2. Add the Florida Grapefruit zest and sugar to the bowl containing room temperature butter. Combine them at medium speed to make cream.
3. Add the room temperature eggs to the cream in 3 lots, whisking together at medium-low speed.
4. Add the room temperature sour cream to the bowl in 2 lots, mixing on medium-low speed.
5. Add the sifted soft flour, baking powder, and salt and combine them at a low speed.
6. Line your baking pans with parchment on the bottom. Fill the batter in a piping bag. Split the batter into the pans, 65g each. Scoop the batter into the prepared cupcake tin, each for 65g.
7. Preheat a deck oven to 180°C for top and 160°C for bottom. Put the pans into the oven and bake for 25 minutes. (Bake for 20-22 minutes when using a convection oven preheated to 170°C.)
8. Remove from the oven and lightly hit the pan. Remove the cupcakes by turning the pan and let it cool.
9. To make the Florida Grapefruit Custard Cream: Add the whole eggs, egg yolks, Florida Grapefruit Juice, Florida Grapefruit zest, and sugar to the pot. Simmer it at low heat. Continue whisking until custard cream has thickened.
10. Cool to room temperature. Add room temperature pomade butter(softened butter). Stir it at medium speed to make cream.
11. Add room temperature Florida Grapefruit confit syrup, stirring it again.
12. Prepare a piping bag with 6 star tip. Decorate the cupcakes with buttercream in round shape.
13. Garnish with the Florida Grapefruit pulp.