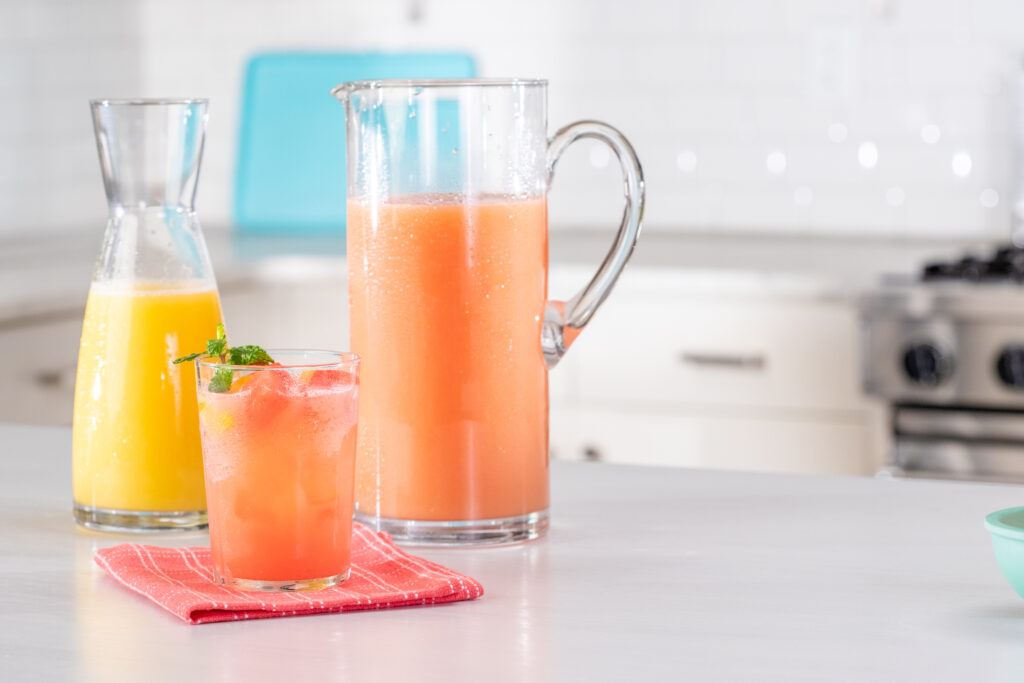 Need something refreshing to top off a summer afternoon? Try this watermelon'ade. It uses all the delicious 100% fruit juices you know and love like Florida Grapefruit Juice and Florida Orange Juice.
Ingredients
1 cup (125 ml) Florida Grapefruit Juice
2 cups (500 ml) Florida Orange Juice
2 cups Florida Oranges, cut into 1-inch pieces, peeled*
Florida Orange Slices, for garnish*
2 cups sugar
1 cup hot water
6 cups watermelon, seeded, no rind, cut into 1-inch pieces, divided
¾ cup (180 ml) lemon juice
¾ cup (180 ml) lime juice
½ cup mint leaves
*garnish with your favourite in-season fruit when Florida Oranges/Grapefruit are not in season
Preparation
1. Combine sugar and hot water in small saucepan over low heat; heat until sugar is dissolved. Refrigerate until chilled.
2. Purée 4 cups watermelon in blender until smooth.
3. Place watermelon juice, chilled sugar syrup, Florida Orange Juice, Florida Grapefruit Juice, lemon juice and lime juice in large pitcher; stir to combine.
4. Add 2 cups watermelon pieces, Florida Orange Pieces and mint leaves; refrigerate for 2 to 3 hours until well chilled.
5. Serve over ice in tall glasses. Garnish with watermelon chunks, if desired.