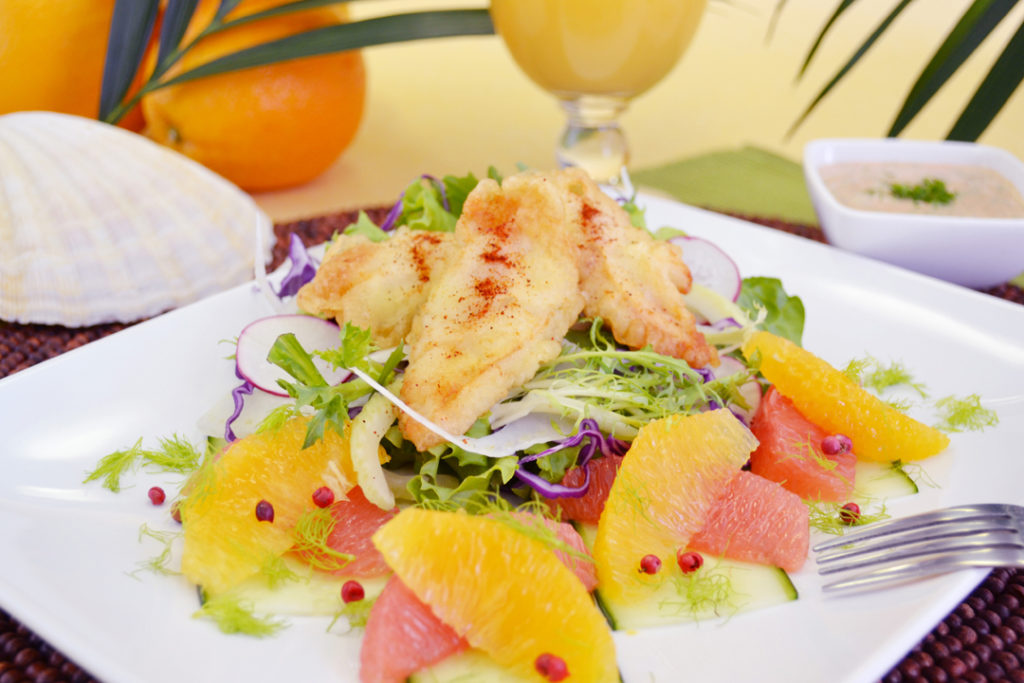 Florida OJ Alligator Salad With Remoulade Sauce
Ingredients
Florida Citrus Remoulade Dressing:
200 ml Florida Orange Juice

1 tsp. orange zest, chopped

220 g mayonnaise

75 g ketchup

3 tbsp. cornichons, chopped

2 tbsp. capers, chopped

2 tbsp. mustard

2 tbsp. lemon juice

1 ½ tbsp. fresh tarragon, chopped

1 tbsp. Creole seasoning

2 tsp. Worcestershire sauce

2 tsp. garlic powder

2 tsp. paprika

1 tsp. Original TABASCO® brand pepper sauce
Crispy Gator:
500 ml Florida Orange Juice

60 ml Original TABASCO® brand Pepper Sauce

700 g alligator, tail meat, 5-centimetre pieces

120 g flour

1 tbsp. cornstarch

1 tsp. baking soda

½ tsp. salt

375 ml club soda, cold

Salt to taste

Pepper to taste
For Salad:
100 g Florida Grapefruit Segments, seeded

150 g Florida Orange Segments, seeded

450 g mixed greens

180 g fennel, thinly shaved

100 g red cabbage, shredded

100 g cucumber, thinly sliced

¾ medium red onion, thinly sliced

50 g radish, thinly sliced
Preparation
Florida OJ Alligator Salad With Remoulade Sauce
For Florida Citrus Remoulade Dressing:
Combine all ingredients; mix well.Cover and chill.

For Crispy Alligator:
Combine Florida Orange Juice with TABASCO®.Place alligator in baking dish; pour orange juice mixture over alligator.Cover and refrigerate for at least 1 hour or preferably overnight.To prepare alligator, combine flour, cornstarch, baking soda and salt in bowl; add club soda and stir just until combined.Batter will be lumpy.Remove alligator from marinade; drain on paper towels.Discard marinade.Dredge alligator pieces in flour mixture; fry in deep fryer at 180° C or pan-fry over medium-high heat for about 5 minutes, or until golden brown and cooked thoroughly.Remove from oil; drain on paper towels.Season with salt and pepper to taste.

For Salad:
Combine all ingredients in large salad bowl.Toss with reserved dressing to coat.

To serve:
Place a mound of salad in centre of each plate.Place 3 to 4 pieces of Crispy Gator on each salad.Serve extra Florida Citrus Remoulade Dressing on the side.