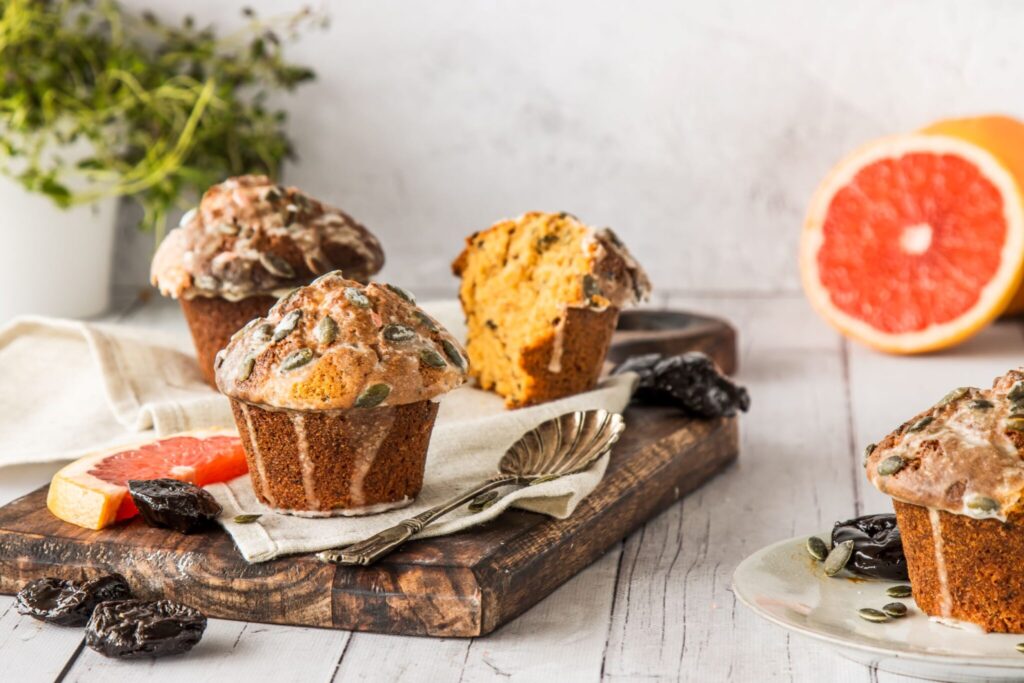 Florida Grapefruit and California Prune Muffins
Ingredients
3 Florida Grapefruit
125g (1/2 cup) California Prunes
125g (1/2 cup) low fat margarine or butter
200g (3/4 cup + 1 tbsp) Sugar
4 Free range eggs
250g (1 cup) self raising flour
2 tbsp pumpkin seeds
150g (2/3 cup) icing sugar
Preparation
Makes 12 muffins. Florida Grapefruit and California Prune Muffins
Chop the California Prunes finely before adding to a mixing bowl with the margarine.
Pour in the sugar and beat together until light and fluffy.
Add the eggs one at a time while continually mixing, making sure each egg is fully mixed in before adding the next.
Sieve in the flour, but do not mix together just yet.
Zest the Florida Grapefruit into the mixing bowl and scatter in the pumpkin seeds.
Stir the mixture together until it forms a batter and spoon into a piping bag.
Pipe into a muffin tin.
Sprinkle over a few extra pumpkin seeds and bake in a pre-heated oven 170C (340 F) for 20 minutes or until golden and baked.
Meanwhile squeeze the juice from the Florida Grapefruit and mix with the icing sugar to make a glaze.
Spoon the icing over the baked muffin while still warm, but not straight from the oven; let them cool for 10-15 minutes.
You can also bake this cake as a loaf cake and a round if you prefer.
Recipe created by British TV chef and author Peter Sidwell (UK site)