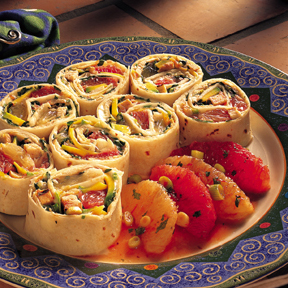 Orange Jalapeno Chicken Party Pinwheels With Grapefruit Salsa
Ingredients
8 ounces cream cheese, softened

1 tablespoon jalapeno chilies, chopped

2 tablespoons orange marmalade

1 tablespoon green onions, chopped

1 tablespoon fresh parsley, chopped

6 10-inch flour tortillas (6 tortillas)

4 baked or grilled chicken breasts, cut in thin strips

1 avocado, sliced

2 cups fresh spinach, cut in very thin strips
For Grapefruit Salsa:
1 cup pink Florida grapefruit, sectioned

1 cup white Florida grapefruit, sectioned

2 tablespoons green onions, chopped

2 tablespoons fresh parsley, minced

2 tablespoons raspberry vinegar

2 teaspoons brown sugar

2 tablespoons chili sauce

2 drops Tabasco sauce

Black pepper, Lawry's seasoning salt, and rum to taste
Preparation
Mix softened cream cheese with jalapeno chilies, orange marmalade, green onions and parsley. Spread on middle of flour tortillas, making sure to leave at least 1/2 inch around edge. Top with several thin chicken strips. Top with avocado and shredded spinach. Top with dollop of salsa. Roll tortillas and refrigerate until chilled (approximately 4 hours). Cut tortillas into 1 inch slices. Arrange on plate and garnish with Florida citrus fruit.