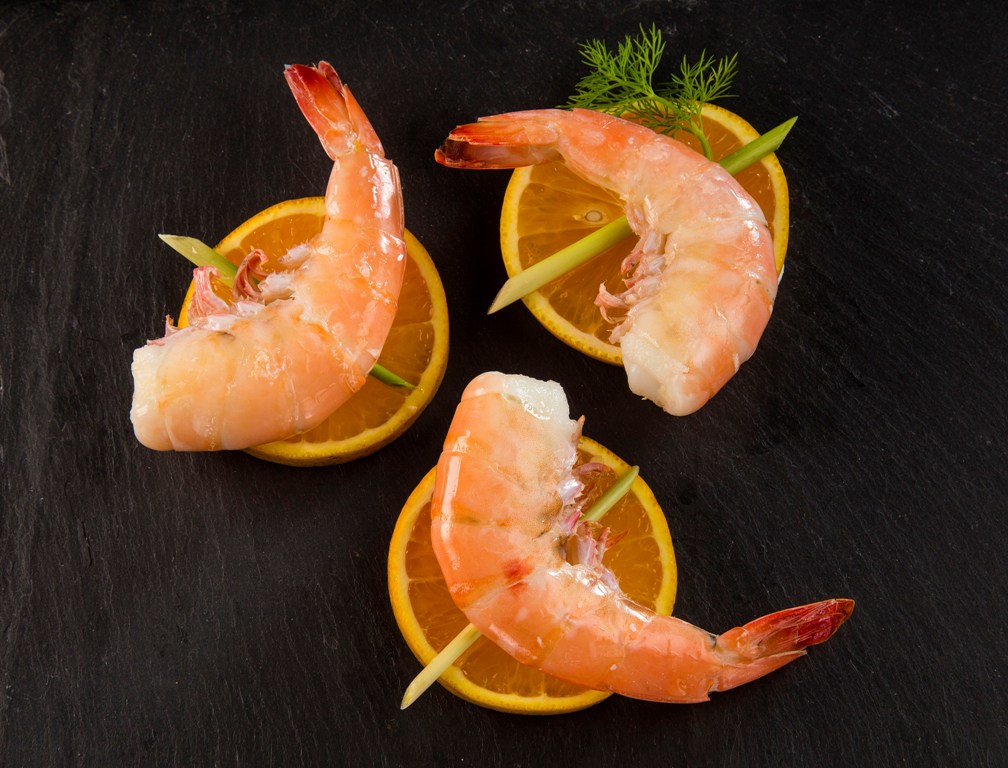 Florida Orange Marinated Shrimp Salt Blocks Recipe
Ingredients
18 head-on Shrimp, U-7

1 ½ (360 ml) cups Florida Orange Juice

½ cup (240 ml) rice wine vinegar

½ cup (240 ml) sweet soy sauce

2 tbsp. sugar

1 bunch Thai basil, coarsely chopped

4 Thai chiles, seeded, minced

2 shallots, minced

1 stalk lemongrass, minced
For Garnish
18 Florida Orange Slices, if desired

9 stalks lemongrass, cut in half, if desired

18 dill sprigs, if desired
Equipment
6 salt bricks*
*Salt bricks can be purchased online.
Preparation
Florida Orange Marinated Shrimp Salt Blocks Recipe
Step 1:
Lay shrimp on their back; score the shell between the fins with a paring knife. Combine remaining ingredients and place in a zipper-sealed plastic bag.
Step 2:
Add shrimp to Florida Orange Juice mixture; seal tightly and refrigerate overnight.
Step 3:
Place salt bricks on rack in oven. Preheat oven to 350° F. Remove shrimp from Florida Orange Juice mixture.
Step 4:
Place shrimp on salt brick and cook for 6 to 8 minutes or until done, turning over while cooking.
Notes:
Salt bricks will become very hot; handle very carefully. Remove head from shrimp. Place Florida Orange Slices on serving plates. Cut lemon grass stalks in half; skewer cooked shrimp with lemon grass. Garnish with dill sprigs, if desired.