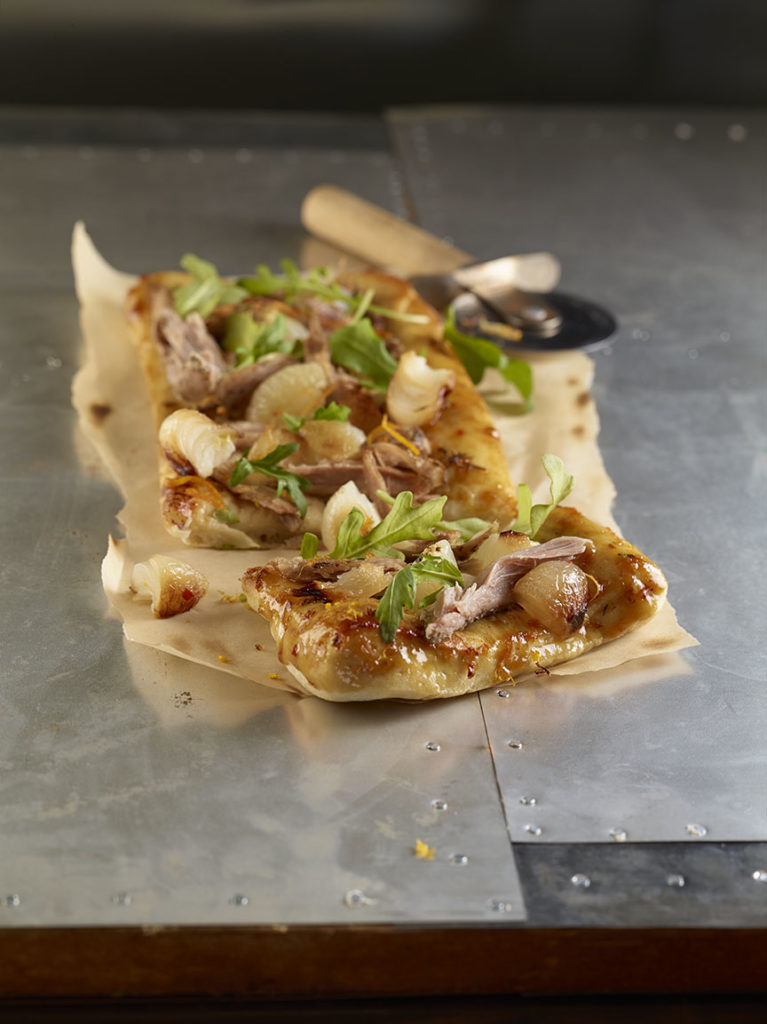 Citrus Duck Confit Pizza With Citrus Braised Cipollinis
Ingredients
1 cup (240 ml) Florida Orange Juice

1/2 cup Florida Orange zest

6 cups Kosher salt

1/4 cup Fennel seed

1/4 cup Pink peppercorns

1/4 cup Dried thyme

2 each Duck leg and thigh quarters

2 quarts Duck fat, rendered
Braised Onions
2 tablespoons Olive oil

1 quart Cipollinis, peeled

1 teaspoon Chili flakes

1 bunch Fresh thyme

1/3 cup Sugar

1-1/2 quarts Duck stock

4 each Pizza dough

1 cup Baby arugula


Preparation
Citrus Duck Confit Pizza With Citrus Braised Cipollinis
Combine the kosher salt, orange zest, fennel seed, pink peppercorns and thyme.
Wash and pat dry the duck quarters. Lay a layer of the salt-spice mixture about 1/4-inch thick on the bottom of a 1/6 pan. Lay 1 quarter on top, pile and pack more of the salt mixture over the quarter, place another quarter over the first, and pile and pack the remaining salt mixture on top. Cover with plastic wrap and leave to sit in the refrigerator for 3 days.
After 3 days, remove the duck quarters from the salt, rinse under cold water and pat dry. Place quarters into a clean 1/6 pan and cover with hot rendered duck fat. Cover with aluminum foil and braise in a 300ºF oven for 2-1/2 hours.
Allow the duck to cool in the rendered fat. Once cool, pull the meat into bite-size pieces.
In a large rondeau over medium-high heat, add 2 tablespoons olive oil and the peeled cipollinis. Sauté until golden brown on each side; add the chili flakes, fresh thyme and sugar. When all of the sugar has caramelized, add the orange juice and duck stock, reduce to a gentle simmer and cover until fork tender, approximately 5–7 minutes. Remove the onions from the pan and reduce the braising liquid to 1/3 cup. Reserve.
Pull the pizza dough into a long, thin rectangle of approximately 4×9 inches. Preheat the pizza oven to 450ºF.
Brush the pizza dough with the reserved braising liquid and spread the quartered cipollinis over the top of the dough. Place pieces of the pulled duck confit in between the onions; bake until the dough is crispy. Garnish the pizza with baby arugula.