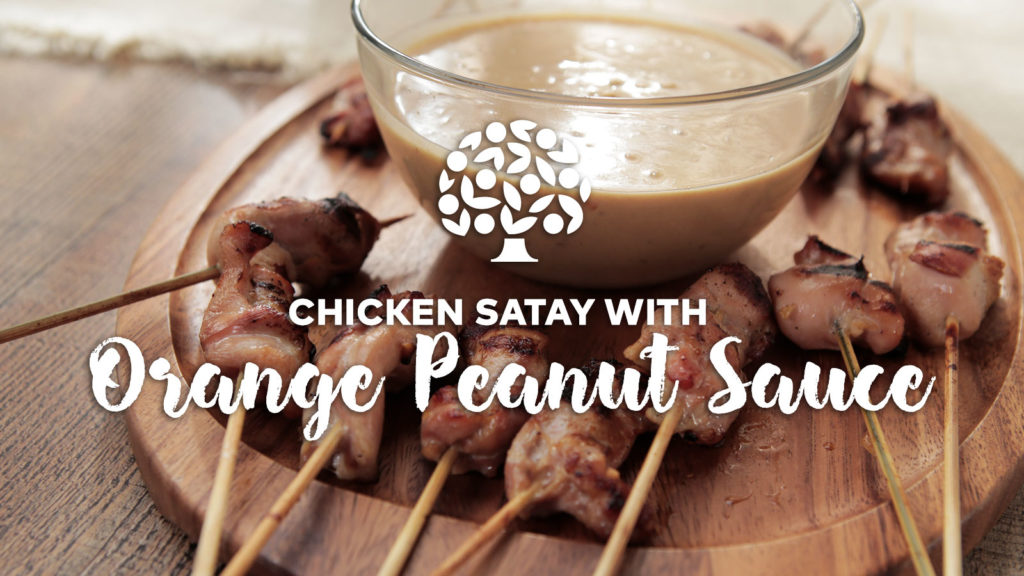 Chicken Satay with Orange Peanut Sauce
Ingredients
For Skewers:
2 tbsp. Florida Orange Juice

1 tsp. garlic, minced

2 tbsp. soy sauce

2 tbsp. peanut oil

8 boneless, skinless chicken thighs

32 wooden skewers (soaked in water for 20 minutes)
For Orange Peanut Sauce:
1 ½ cups (660ml) Florida Orange Juice
1 tbsp. peanut oil
1 tbsp. garlic, minced
2 tsp. fresh ginger, grated
½ cup onion, finely chopped
½ ground coriander
⅔ cup chunky peanut butter
1 tbsp. soy sauce
hot sauce (optional)
Preparation
Prep Time
Cook Time
Total Time

1 hour

30 minutes

20 minutes

1 hour

50 minutes
Chicken Satay with Orange Peanut Sauce
1. Flatten each chicken thigh and slice into 4 pieces along grain.
2. Mix Florida Orange Juice, garlic, soy sauce and peanut oil in a bowl.
3. Soak chicken in the marinade. Cover and refrigerate for up to 60 minutes.
4. Preheat grill to medium-high heat.
5. Place chicken, rind end first, on the skewers.
6. Sauté garlic, ginger and onion in peanut oil until onions are slightly browned. Add Florida Orange Juice, coriander and peanut butter. Simmer until thickened (about 2 minutes).
7. Stir in soy sauce and add hot sauce, if desired, to taste. Cover. Set aside. If sauce is too thick, thin with additional Florida Orange Juice.
8. Grill satay skewers for 4 minutes per side, heated to an internal temperature of 170 degrees F.
9. Serve immediately with Orange Peanut Sauce. Reheat sauce if needed.
Helpful Tip: Make these skewers ahead of time and store in the fridge for a quick afternoon snack!