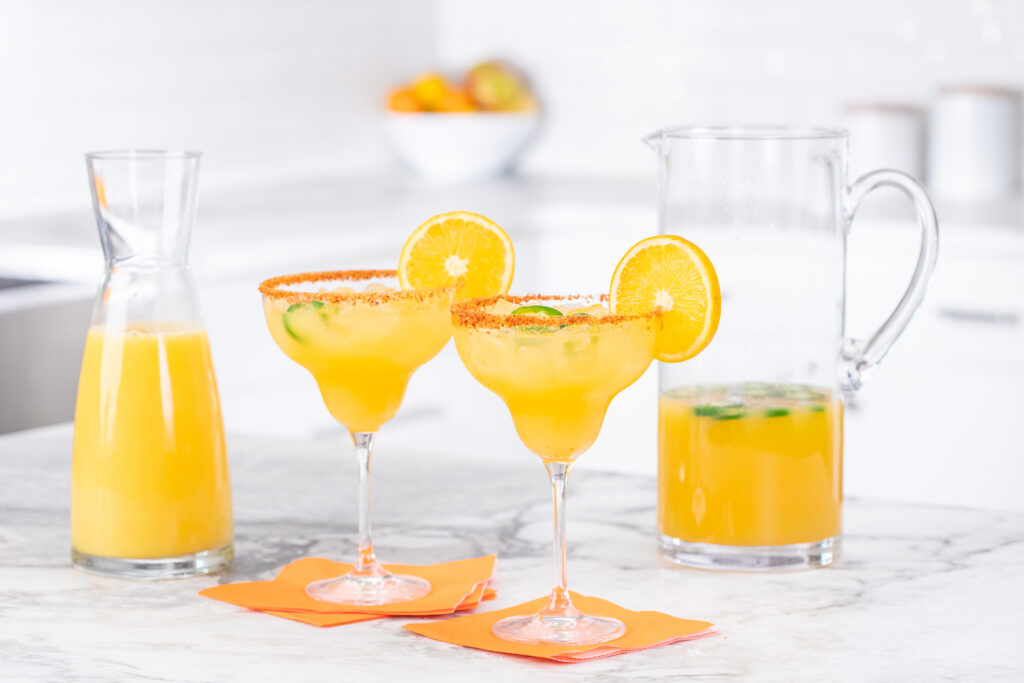 Spicy Florida OJ Margarita
Ingredients
2 cups (480 ml) Florida Orange Juice

2 cups (480 ml) simple syrup*

8 fl. oz. (240 ml) Tequila, silver

2 fl. oz. (60 ml) Triple sec

2 fl. oz. (60 ml) lime juice

4 fl. oz. (120 ml) seltzer

4 Florida Orange Slices, 1/4-inch thick

Ghost pepper salt, to taste**

Ice
Preparation
Spicy Florida OJ Margarita
Place Florida Orange Juice in saucepan over medium heat; reduce to 1 cup and cool.
Fill cocktail shaker three-fourths full with ice. Add orange juice reduction, simple syrup, tequila, Triple Sec and lime juice. Shake and pour into 4 glasses. Top each glass with 1 ounce of seltzer.
Pour ghost pepper salt onto saucer; dip edges of Florida Orange Slices into ghost pepper salt, if desired. Place Florida Orange Slices on rim of glasses. Note: Ghost pepper salt is extremely hot; use sparingly.
*For Simple Syrup: Combine 2 cups sugar and 2 cups water in small saucepan. Bring to a boil over medium heat; cook until sugar dissolves, stirring occasionally. Remove from heat; cool before using. Refrigerate in airtight container for up to 3 weeks.
**Ghost pepper salt can be purchased at specialty supermarkets or online.